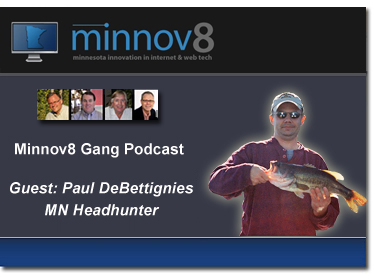 On this week's show, the Gang talks with Paul DeBettignies, a Minnesota tech recruiter, about the state of job search, lots of tips and advice on networking, and about being in-the-game in social networking and why it's so important in this tough economy.
Today's hosts: Steve Borsch, Tim Elliott, Graeme Thickins and Phil Wilson.
Paul's a job coach, mentor, and one of the most AWESOME social and physical networkers we've ever met! This guy is EVERYWHERE online: His blog; his brand new BeYourOwnHeadhunter blog (The idea behind the site is to have content on job search, webinars on the same with networking topics like creating/using LinkedIn, and a book for later this spring with information that because of time do not make it into a one hour presentation); LinkedIn profile; Social Media Breakfast; RecruitingBlogs, a social network he started as well as MinnesotaRecruiters; Twitter; and has given speeches and is in articles all over the place…amazing. 
By the way, if you're looking for a speaker on job search, networking or LinkedIn —  or are seeking a relationship-based recruiter to help with either IT placements or advice on employer branding, use of social media, etc. —  email Paul directly.
Links mentioned during the podcast: 
+ Twin Cities Business Monthly list of companies: http://www.tcbmag.com/factfinder/index.aspx
+ Craigslist Minneapolis Jobs postings
+ No matter what, make certain you have a LinkedIn profile
+ Graeme mentioned Doug Berg's Job2Web (and we should mention HotGigs, a great local site that matches consultants and contractors to gigs, whether project-related, part-time, or temp-to-hire, etc)
+ Emurse, the online resume site
+ Paul mentioned JibberJobber.

Podcast: Download (45.8MB)