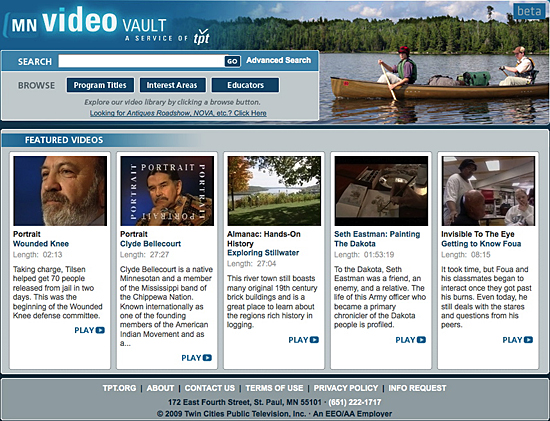 This morning I was made aware of a beta offering from Twin Cities Public Television (TPT) called, "MN Video Vault."  They're hosting a focus group session in downtown St. Paul on June 8th, but since I don't think focus groups are meaningful in a day when one simply has to connect with a savvy, connected and worthy audience (ahh….like Minnov8 readers?) I figured you all would be happy to give them feedback on what they've delivered in this first iteration.
For anyone who knows me, it's obvious that I'm a huge fan of curated, meaningful and historical content so I was very pleased to see this archive of TPT videos launching and immediately went to view it when I got the email. I care deeply about TPT, Minnesota Public Radio, the Minnesota Historical Society and many other resources in our state, but I feel I'm qualified to provide feedback to them while the Vault is in beta and you, our savvy and connected internet and web technologists, are equally (or more) qualified to let them know what they need to do to make this wildly successful.
I'm confident I'm right smack-dab-in-the-middle of their target market for MN Video Vault but in its current form, I won't be using it. Here's why…  
There were too many obvious and missing items that are "table stakes" to be in the online video game, especially for a non-profit like TPT. These are some of the top surprises that leapt out at me as I poked around the site:
No RSS feed (for updates)
No Twitter follow (also for updates)
No "Sign up for Email Updates" (for updates by those who don't use the others or are less than tech savvy)
On their "About" page the TPT folks say, "Programs have been broken into segments and tagged with key information to make specific videos easy to locate" but I was surprised that they're missing a tag cloud or any actual tags on the site, other than their own bookmarks of segments within a long program
There are zero social components to the site. One example they might follow is Brewster Kahle's Archive.org and the movie section which enables commenting, rating and yes, even downloading. When it comes to tagging above, having the capability to enable users to call out interesting tidbits, historically significant elements within a video, and other items that add value would be great
The quality of the video is low (e.g., it's truly unwatchable in full screen mode). I'd be *highly* unlikely to watch anything they're offering except, possibly, a 4-5 minute video at my computer or on my laptop, but I'd have to be highly motivated to do so and there's not much there (so far) I find compelling enough to do so
High quality video is an imperative and not just for full screen since IPTV is changing fast. High quality internet video is especially in demand by the rapidly growing base of users who've embraced media center technology (e.g., this post over at my personal blog is about my media center) and people are now watching, or have access to, HUNDREDS of video feeds from Hulu, NetFlix, TEDTalks, and a multitude of obscure offerings that any media center user can instantly call up and watch on an HDTV. With PBS offering high quality versions of their videos now, media center offerings like Boxee offering plugins to stream PBS shows in high quality on an HDTV, the bar has been set and TPT has to meet that qualitative standard to have MN Video Vault be taken seriously and used in any current, or future, meaningful way
I'm unable to embed any of the videos on my blogs (Note: As part of this, it's an imperative to be able to embed a video with a link to the timecode or minutes/seconds of a particular part of the video). Why should this matter to TPT and us? On Minnov8, I wrote this quick post about an MPR app (created by a local tech firm) and wanted to illustrate its power and the irony of a snippet of an Midmorning show I'd heard. Unfortunately, I had to jump through some hoops in order to get the audio in to the post, and based on the feedback I've received from a couple of dozen people it's pretty clear that this one post created quite an incentive for people to get the MPR iPhone app, listen to that particular show in its entirety, and even subscribe to the Midmorning podcast. Wouldn't enabling MN Video Vault videos to be embeddable and usable be key to a non-profit marketing strategy?
Right after this was posted, I emailed the TPT folks and gave them a link to this post in the spirit of helping them move MN Video Vault forward.  To let them know what you think, use this contact form on their site and give them some positive suggestions, recommendations and criticisms.