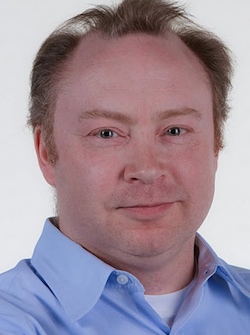 A longtime local technology infrastructure guru and head of development at one of Minnesota's largest Internet firms has joined an emerging Bay Area startup — but will continue to live in the Twin Cities. Godengo Inc. today announced that Andy Morgan is joining the firm as Chief Technology Officer (PR Newswire).  Andy has been with St. Paul-based Internet Broadcasting (IB) for the past five years, most recently as Vice President of Platform Technologies, where he was responsible for delivering 500 million page views and 70 million on-demand and live video streams per month, to 15 million monthly unique visitors.  He also led a development group at IB that has numbered more than 40.  You also may remember Andy as the key tech guy who managed two Olympics sites for IB client NBC.
Morgan joins a former colleague at Emeryville, CA-based Godengo: Peter Stilson, CEO.  Stilson served for several years as COO and Chief Revenue Officer at Internet Broadcasting during it strongest period of growth.  

He moved from the Twin Cities to the Bay Area in September 2008 to take the reins at Godengo. Andy tells me he starts his new position July 16.
Godengo provides print and web publishers a strong online presence and networked advertising inventory, enabling them to more effectively compete online.  Godengo's Rivista™ content management system (CMS) is designed from the ground up for multiplying traffic volume, enhancing search engine optimization, and increasing profits at magazine publisher's web sites. The Godengo™ Online Ad Network harnesses an affluent, upscale consumer audience that reads the premier city & regional and lifestyle publications, providing advertisers national reach with deep expertise in local markets. One of Godengo's investors also has a Minnesota connection. Chairman George Lawson was VP of Corporate Development for Dayton Hudson Corporation earlier in his career, and also held senior operating and corporate positions with Levi Strauss & Co. and General Mills.