Twin Cities Business (TCB) magazine reported today that Polar Semiconductor Inc. (PSI) is planning to build a new facility, adding to its existing 200,000-square-foot facility in Bloomington, just East of the Mall of America on Old Shakopee Road.  It cited documents recently filed with the City of Bloomington's planning division.  But the biggest news is it the firm expects the expansion will add 300 jobs eventually when the facility is completed.
Bet you didn't know that we had a big-time semiconductor fab practically in the shadow of MOA, did you now? And it's been there for more than 25 years, actually, under previous ownership. (More on that below.)
The current 200,000-square-foot facility at 2800 East Old Shakopee Road includes 62,000 square feet of cleanroom space. where the company performs semiconductor wafer fabrication.  Chips cut from these wafers are used in a variety of electronic devices.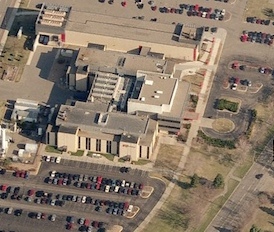 TCB reported that company officials are not yet disclosing information about the expansion. Quoting from the story: "Sources close to the deal said the initial phase of construction will likely result in the addition of about 80 new employees, and when completed, 'the addition will have generated need for about 300 additional employees'."  No target date was stated for the expected completion of the new facility.
A report by the City of Bloomington's planning and economic development division, said TCB, indicates the company hopes to expand on its existing property by adding 98,000 square feet. The building would occupy space north of the existing facility. (Shown above in an aerial photo.)
TCB said the planning division voted unanimously in favor of the expansion, and the City Council will vote Monday to make the final decision. "I have no reason to believe they won't approve, but of course, can't know for certain," a representative of the planning division told TCB.  She said PSI plans to begin construction in early 2011, and once the "shell" of the addition is complete, it will likely finish the interior through additional construction phases.
Polar Semiconductor Inc. is a wholly owned subsidiary of Japan-based semiconductor manufacturer Sanken Electric Company, Ltd.  It has been continuing to add headcount to its operations since it acquired the facility in 2005, according to the City of Bloomington report.
Now, some background: As noted above, the name Polar Semiconductor is relatively new. The facility on Old Shakopee Road — yes, it's across the street from one of the only farms remaining in the Twin Cities — was originally owned by Control Data Corp., and operated as its Microcircuits Division, building pre-amp chips for disk drives.  That was until 1984, when the operation was acquired by a then-new venture partially funded by Control Data.  That new venture was VTC Inc., which was founded by two entrepreneurs who relocated to the Twin Cities from Fairchild Semiconductor in South Portland, Maine — one was from Minnesota, the other originally from the UK.  (Disclosure: VTC became a client of mine in 1984, and was for 15 years).  In 1999, VTC management sold off a portion of the company, which included about half its employees, to Lucent Microelectronics, a unit that was soon renamed Agere.  (I believe some of those employees may still work in Agere offices in Mendota Heights, while others had relocated or commuted to the company's headquarters in NJ.)
After the partial sale to Lucent, VTC's management, led by Larry Jodsaas, CEO, retained ownership of the building and "fab" at 2800 East Old Shakopee Road, and about half the employees remained there, most of them production related.  That management operated the facility as Polar Fab for several years, producing silicon wafers for other firms (i.e., as a "contract fab").  In 2005, Jodsaas and his management team sold the business to the Japanese firm.  It was at that time the name of the firm was changed to Polar Semiconductor Inc.
So, the next time you're cruising by the Mall of America on Killebrew Drive, continue on East where it turns into Old Shakopee Road and get a glimpse of a facility that has pumped out a whole hell of lot of chips in its day — and now promises much more to come.