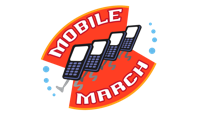 The Twin Cities premier mobile event, Mobile March, will be here in just a few weeks. It's a day long event dedicated to exploring the latest in mobile technology and trends. The name Mobile March not only denotes the month in which it takes place, it also emphasizes the ongoing advancement and growth of mobile technology and the related lifestyle. If the attendance is as big as last year's event—and is already shaping up to be more well-attended than 2010′s with even the preliminary agenda looking stronger—it will sell out very quickly. Registering now is the smart choice and you can do so here.
Founded by Justin Grammens, Phil Wilson and Linda Cummings in 2010, they point out the essence of the event on their website, "…Mobile March offers two tracks of learning; Mobile Development and Mobile Business. By offering content that appeals to mobile developers, business people, and users we also hope to facilitate a greater understanding between the constituencies that make mobile happen.  Whether you make money with mobile or just use it to stay connected, we invite you to join us for Mobile March."
If you're keeping track of the explosion in mobile devices (and networks like Verizon beefing up their networks with 4G) then you'll instantly understand why this is such a timely and important event for you to attend.