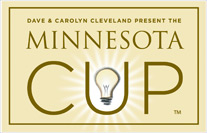 The Minnesota Cup announced their nearly 50 semi-finalists today!
These semi-finalists were selected and announced this morning out of more than 1,000 aspiring entrepreneurs who participated in the 2011 competition. Judging the first round entries was challenging as the overall quality of entries was excellent. 47 of the best and most innovative business ideas will now compete in the second round of the contest. Congratulations to all semi-finalists and good luck in the next round of the competition!
More than 1,000 aspiring entrepreneurs participated and 47 (plus 4 finalists from the Social Entrepreneur division) of the best and most innovative business ideas will now compete in the second round of the contest. Congratulations to all semifinalists and good luck in the next round of the competition!
High Tech Division
The full press release is after the jump…
2011 Minnesota Cup Semi-finalist News Release
NEARLY 50 SEMI-FINALISTS CHOSEN IN SEVENTH ANNUAL MINNESOTA CUP COMPETITION
Local enterprises continue to get behind statewide search for breakthrough business ideas
Competition eclipses 1,000 participants vying for more than $185,000 in seed capital and valuable professional services
MINNEAPOLIS – June 13, 2011 – A high-tech interactive geo-social game that allows players to virtually conquer real world locations. A health-conscious honey product made without the help of bees. A virtual exchange that connects buyers and sellers of biologic products such as blood. These are among the 47 semi-finalists who were today named in the seventh annual Minnesota Cup, a statewide contest supported by a growing number of local corporations to seek out Minnesota's newest and most innovative business ideas. Visit www.minnesotacup.org for the complete list of semi-finalists.
The contest began accepting breakthrough business ideas in late March 2011. When the entry period closed, more than 1,000 aspiring entrepreneurs, inventors, small businesses and other individuals with potentially breakthrough ideas had participated; 47 of these business ideas will now compete in the second round of the contest.
"In our seventh year, it's exciting to see the Minnesota Cup continuing to gain momentum in our community," said Scott Litman, co-founder of the Minnesota Cup. "As a testament to this momentum, leading Minnesota companies continue to get behind the competition and this year we are extremely pleased to welcome Carlson, General Mills and Digital River as the newest lead partners."
One significant benefit semi-finalists receive in the Minnesota Cup is exposure to a review board comprised of nearly 50 prominent investors, successful entrepreneurs and other leaders in the Minnesota business community. Semi-finalists are also paired with mentors who assist the semi-finalists as they write their business plans. "Connections like these are invaluable to aspiring entrepreneurs," adds Litman.
The 2011 semi-finalists will be honored with a reception at the University of Minnesota's Carlson School of Management on Tuesday, June 21 from 5:00 – 7:30 p.m. Joining the 47 semi-finalist teams will be contest organizers, including co-chairpersons Scott Litman and Dan Mallin, review board members, sponsors and supporters as well as past Minnesota Cup finalists and winners.
During the next phase of the competition – June 21 through July 22 – the semi-finalists will be asked to refine their business plans. During this time period and into August, semi-finalists will have opportunities to attend a number of workshops and events organized by Minnesota Cup supporters in an effort to help them further develop their business plans.
Sponsored events include:
• June 12: Fredrikson & Byron, BioBusiness Alliance of MN and The Consulate General of Canada's Minneapolis office host an event for Clean Tech and BioScience semi-finalists, providing an opportunity to pitch their ideas to an experienced group of professionals.
• July 29: Gray Plant Mooty and Lurie Besikof host a panel discussing competition strategy and give veteran advice to all semi-finalists.
• August 10: Messerli & Kramer hosts an event for all semi-finalists featuring notable local investors and business advisors, who will give valuable advice on how to approach finances during the early stages of business.
After July 22, the review boards will narrow the field to three finalists in each of the five divisions – High Tech, BioSciences, Clean Technology & Renewable Energy, Student and General. One finalist from each division will be awarded the top prize of $25,000 ($10,000 for the Student division winner). New in 2011, capital from new sponsors allows the Minnesota Cup to add a $5,000 cash award for the second place finalist in each division.
The competition's sixth division, Social Entrepreneur, is managed by Social Venture Partners Minnesota(SVPMN). Given a new partnership between SVPMN and The Mosaic Company, the Minnesota Cup's Social Division competition is now known as the Mosaic Social Entrepreneurs Cup. The Mosaic Social Entrepreneurs Cup selected four finalists in mid-May: Mind Body Solutions, GiveMN, HourCar andDesignWise Medical. These finalists will present at EPCON: The Engaged Philanthropy Conference on June 16 where the audience will choose the winner. The winner goes on to compete against the other five Minnesota Cup division winners for the grand prize of $25,000 and the Minnesota Cup, presented by Dave and Carolyn Cleveland. The grand prize winner will be named at the 2011 Minnesota Cup awards event on September 8 at the McNamara Alumni Center.
By the numbers
• $185,000 in prize money
• $30 million+ capital raised by '09 and '10 finalists alone
• 6,000+ participants in the first seven years
About the Minnesota Cup
The 7th annual Minnesota Cup is a statewide competition that seeks out inspiring entrepreneurs with the next breakthrough idea. High-tech or no-tech, this competition brings together innovative business ideas from a wide range of industries including automotive, health care services, telecommunications, technology, leisure, outdoor recreation, energy conservation, education and many others. Contest judges select the top entrants – 8-10 from each division – to participate in the semi-final round of competition, from which judges will determine the top three finalists in each division. Each finalist will then present their ideas to a prestigious panel of executives, investors and notable entrepreneurs who will choose this year's division winners and award them $25,000 – with the exception of the student division ($10,000) and the Mosaic Social Entrepreneur Cup winner ($20,000). The winner from each division, including the social division, will then compete for the grand prize of an additional $25,000 on Sept. 8, 2011, at the 7th Annual Minnesota Cup awards event at the University of Minnesota McNamara Alumni Center.
Key Minnesota Cup Web Links
• Minnesota Cup General Information
• Minnesota Cup Judging Process
• Minnesota Cup Review Board
• Minnesota Cup Sponsors and Supporters
Stay Connected with the Minnesota Cup
• Minnesota Cup Email Notification List
• Minnesota Cup Twitter Feed
• Minnesota Cup on Facebook
CONTACT
Jessica Snell
Haberman
612.372.6452
jessica@habermainc.com
Tags
Minnesota Cup, business competitions, business plans, business plan assistance, small business tools, entrepreneur resources, job growth, innovative business ideas, University of Minnesota, Wells Fargo, State of Minnesota, Carlson, General Mills, Scott Litman, Digital River
# # #