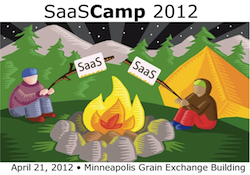 I had the pleasure of attending a workshop event held this past Saturday at the awesome CoCo coworking space at the Minneapolis Grain Exchange. It was called SaaSCamp 2012. Note the year is part of that title, because it fully intends to be a recurring event. If you're part of an early-stage software-as-a-service business, or planning one, and you missed this workshop — well, you missed a great one, and I would make sure you get to the next one when it happens!
The event was conceived and conducted completely by Lief Larson, CEO and founder of Workface Inc., with assistance from a couple of his team

members. Workface is a growing startup in Minneapolis that itself developed a SaaS offering it now markets widely, which it calls a "customer engagement platform." I was extremely impressed with the breadth and depth of the content Lief pulled together for this event. It included a extensive look at market data for SaaS in the U.S. and globally, monetization strategies and practices, selling to the enterprise, negotiating contracts, increasing adoption and retention of your app, marketing your app, creating a channel to sell your app, financing and funding a SaaS business, training your SaaS customer, and ongoing monitoring of your SaaS business. On top of all this, Lief related some really excellent stories throughout the workshop about his journey in funding and building Workface.
I had a chance to follow up with Lief afterwards to get some further perspective on the story behind SaaSCamp…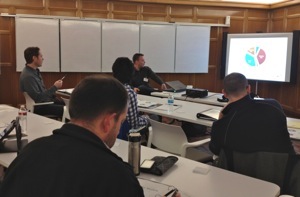 Q: Lief, why did you decide to do the event? 
Lief:  I've had a great group of mentors who have helped me during my entrepreneurial journey and I try to pay it forward by helping other young businesses and entrepreneurs to find success.  A few of my "mentees" are building applications that are software-as-a-service (SaaS) offerings and asked that I consider putting on an event.  That's why I created SaaSCamp 2012 — to bring together like-minded people working on SaaS.  I think the event is already bigger than me, and I'm hoping the community will take it and run with it. 
Q: In saying you'd like to turn SaaSCamp into a regular event, how often do you mean? 
Lief:  I think meeting up once a quarter or some greater level of frequency is important to stay current with new ideas and best practices in SaaS, but a larger annual event is a must.
Q: Why did you do it as a small, paid event, rather than use the barcamp or unconference model (sponsor-supported, with free attendance), like CloudCamp and so many others? 
Lief:  Whether you're doing a sponsor-supported or attendee-supported model, the reality is that there are costs for hosting an event.  CoCo Minneapolis gave us a great deal, but they too needed to bring in people and security.  When you do a day-long event, people need to eat and drink.  Having a sponsored model takes some of the objectivity away, plus we don't have a big list of providers who are focused on sponsoring the SaaS community (yet).  I think this will change over time. In any case, we analyzed the anticipated costs of the event, and used that to be the guide for what to charge for tickets.  Plus, having a cost/value relationship, in my humble opinion, ensures that you keep the event focused on the right type of attendees and preserve a focused and more intimate experience.  We've all been to those conferences that are a free-for-all and you often get a heavier mix of vendors that are simply coming to spend a day trying to sell to the attendees.  We had zero selling going on at our event, but rather a 100% focus on how to grow and improve your SaaS business.  SaaSCamp had a 100% money-back guarantee to ensure that the $200 ticket price was a non-consideration in the value received.  If/when the event has more attendees, I anticipate the ticket price will drop through economies of scale.
Q: You mentioned to me that you believe "we have the best place in the world to build a SaaS company here in Minnesota."  Can't it be done anywhere?
Lief:  Technically, a SaaS business can be built from anywhere. But I think for highly successful SaaS businesses to get off the ground, it is better positioned in a market where the cost of doing business is relatively low, and the technical talent base to execute against the opportunity is high.  Silicon Valley is well-positioned in terms of financing, but it's also a very expensive place to build a business and the most competitive technology talent market in the world.  There's no place in the world I'd rather be building my SaaS company than right here in Minneapolis.  We've found highly qualified engineers and programmers, incredible business support, affordable living and reasonable business overhead costs, and we're well situated for travel to the east or west coasts.  Plus, we have more Fortune 500 companies per capita here than anywhere else in the U.S.  We're well represented in terms of small, medium, and large companies to sell into. 
Q: What's the latest with Workface, and what can you tell us about your upcoming plans?
Lief:  Like many SaaS companies, we've found a way to scale the business without dramatic headcount additions to the company.  That's why SaaS businesses can become highly profitable when they scale.  Workface has only 7 full-time employees, 2 part-time, and the rest of our business is accomplished through our contingent force, which includes 16 contractors.  We currently service more than 110,000 users and count companies like Intuit and AAA as customers.  Though our revenues are scaling and we've seen double-digit month over month growth, we're continuing to bring private and institutional capital into Workface for growing our market penetration.  The visibility to ROI with SaaS is usually spread out over a longer time horizon (incremental monthly recurring revenue vs. selling on premise all in one big chunk).  As such, we anticipate taking on outside capital for some time to come.
——–
Disclosure:  Lief Larson is a former client and, I fully admit, one of my favorite serial tech entrepreneurs in this town.
Funny story:  Lief and I traveled to Palo Alto a couple years ago for a conference where Lief was pitching to the Silicon Valley VC community, along with a bunch of other hot startups, and sharing the stage with speakers like the founders of Salesforce and SuccessFactors. We stayed in a funky old, '60s-vintage Travelodge motel — about as low-priced as we could find in Palo Alto. After we checked in to our respective rooms, we both went online to work. First thing I see is an email from Lief with a photo attached of this gorgeous, expansive hotel room, saying, "Wow, I hope your room is as nice as mine." I never laughed so hard, because I could hardly turn around in my dinky little room.