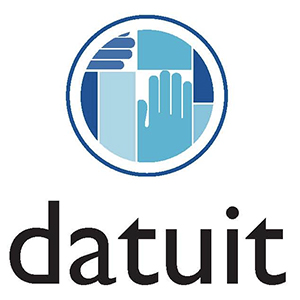 Last November our colleague, Kurt Roots, wrote this post about Datuit entitled, Big Healthcare Data. In it he discussed how the company is "…an innovative software company that is developing a new platform for creating, storing, and managing healthcare data. The firm is taking advantage of federal regulations to drive demand for this technology which will allow patients, clinicians, and even patients to securely integrate and analyze healthcare information."
While that post was quite comprehensive, in journalistic terms it "buried the lead" to the story. What's the headline? Datuit Connects Consumers to Healthcare Providers. What's the story/value proposition? To give we consumers access to our data when we want it, on the device we happen to be using at the moment, all while ensuring we are empowered to make smart, informed decisions about our own healthcare.
Datuit is developing technology to connect consumers to all of their healthcare providers as well as their friends and family. The technology is built on the SafeIX platform that stores health information in a vendor-agnostic way, allowing apps from many developers to access and contribute to an individual's health information. They are also developing technology to allow consumers to manage the sharing of their information.
Their pitch?:
SafeIX is patent pending technology that utilizes vendor-agnostic Structured Documents and NoSQL to bring clinicians and patients together.
While I was aware of Datuit from Kurt's post and had some understanding of the overall "big healthcare data" space, it wasn't until I attended The Collaborative's tech.2012 event that this space was validated by none other than UnitedHealth Group, Inc.
At that event Andy Slavitt, Group Executive Vice President of UnitedHealth's Optum group, described how they were already selectively inviting in developers to access their enormous repository of clinical, prescription and other data, and offering that up to developers. He further indicated that they would be exposing more and more of this data with an API so developers could access it!
I recently spoke at length with the Datuit founders, Gordon and Sandra Raup, to discuss their approach and what they've built to date, and why I think their approach is key to killing the "copay culture" that exists with most consumers. 
The objective of SafeIX is an integrated patient record that will stand at the intersection of the clinic and the patient. How important is something like this to the future of healthcare? With over 70 million baby boomers retired by 2026 — most of whom will have to stay in their homes as long as possible if not forever — the demand for efficient streamlined solutions will be paramount.
Key to the reduction or slowing the acceleration of healthcare costs will be the electronic health record (EHR). In that Wikipedia article it spells out what an EHR is:
An electronic health record (EHR) is an evolving concept defined as a systematic collection of electronic health information about individual patients or populations. It is a record in digital format that is theoretically capable of being shared across different health care settings. In some cases this sharing can occur by way of network-connected enterprise-wide information systems and other information networks or exchanges. EHRs may include a range of data, including demographics, medical history, medication and allergies, immunization status, laboratory test results, radiology images, vital signs, personal stats like age and weight, and billing information.
The issue is the lack of standards and that the space is in flux. Of course, as every entrepreneur knows well where there is a state of flux there is huge opportunity. Datuit is smack-dab-in-the-middle of the space with their approach and there is no doubt they'll have ample runway to move in to this space.
The SafeIX platform is designed to help meet the requirements of portable, accessible and patient-centric electronic health recording. Datuit is building this sophisticated platform around document standardization, interoperability, and the concept of having one master patient record. Therefore they are storing data as documents formatted in standards such as the HL7 Clinical Document Architecture (CDA) and the ASTM Continuity of Care Record (CCR). These standards specify a universal structure and semantics for clinical documents. Because of the small and distributed nature of these documents combined with the inevitable speed and volume requirements, the SafeIX platform relies on scalable NoSQL technology and a cloud-based infrastructure. This patent-pending system allows for big data to be retrieved and combined with other information from structured documents.
On a personal note, I can't tell you how often I'm presented with the need to have readily accessible data on myself when in a clinic or hospital setting. As a small business owner who owns a high deductible policy, I'm constantly aware that it is up to me to shop for the optimal healthcare solution. To do that well, eliminating costly and redundant data collection by some physician or clinician is critical. Fortunately I've created my own ad-hoc and secure repository with my data, but it's not in some interchangeable format that I can easily share with my primary clinic (usually I'm forced to email them since they 'don't want our network' to be infected with my thumb drive!).
For the last five years I've been increasingly aware of the problems associated with our "copay culture". Copayment is intended to motivate those with low deductible health insurance from seeking unnecessary treatments. In practice, the payments are so low that people rarely think twice about agreeing to whatever procedures the doctor insists are performed. As such, procedure use increases and new technologies — which often cost clinics hundreds of thousands of dollars — are increasingly used for diagnostics when alternatives could be utilized.
All-in-all Datuit's SafeIX platform holds the promise of making the inefficient healthcare system a bit more efficient by eliminating redundancy, time wasting form completions, and even the possibility that third-party healthcare management groups could offer services to data-mine and diagnose possible upcoming illnesses.
I, for one, am looking forward to a more efficient healthcare future!