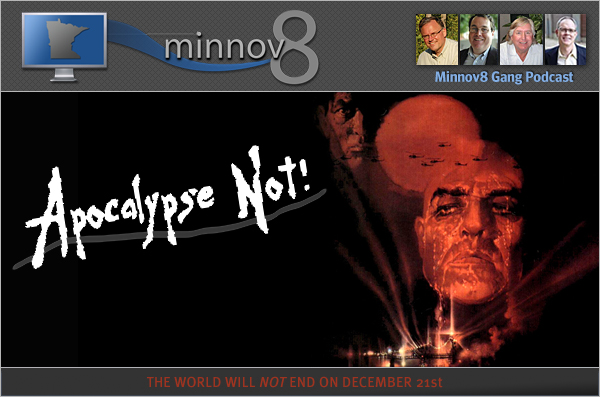 You can rest easy now: NASA says the world will not end on December 21st of this year (phew)! We've averted a calendar-driven apocalypse (how did that even start!?!) so go ahead and make plans for Christmas, New Years or whatever else you have coming up.
The Gang discusses several stories but started off with Minnedemo (here is a list of who presented), the MIMA Holiday Party and the W3i Minnesota Tech Holiday Bash.
Hosts: Steve Borsch, Tim Elliott, Graeme Thickins and Phil Wilson.
Music: Waiting by Freeky Clean brought to us by the podsafe Music Alley.
Discussed during the show…
Upcoming Events…

Podcast: Download (Duration: 59:03 — 51.5MB)