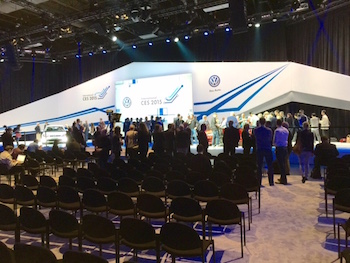 Well, actually, I didn't crash it (I had my Minnov8 press pass), but I did stumble in late… 🙁 Would you believe, just as it was wrapping up? Damn long cab rides! But there were still lots of people milling about on stage, and both the vehicles were still there. So, I grabbed some photos, and the press kit on my way out.
The red car is the Golf R Touch, which was attracting the most attention, and the white car is an e-Golf, their electric car, which looked lonely in comparison. (But who needs that now with cheap gas, right?!) They showed a "Connected Golf" version of that car, which is a set of features that seems to be their major focus at CES.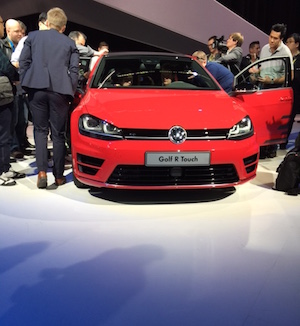 As a big VW guy myself — I've owned or leased six or seven of them in my lifetime, and I've been driving them exclusively for 10 years now — I just had to find out what was new. So, here's what your roving Minnesota reporter at CES found out…
"Ten Key Facts about Volkwagen Innovations at CES":
1) Golf R Touch offers intuitive operation of high-tech infotainment.
2) Gesture control of Golf R Touch revolutionizes user operation.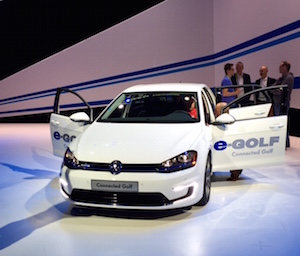 3) Volkswagen will introduce MirrorLink™, CarPlay (Apple), and Android Auto (Google) in the vehicle in 2015.
4) Media Control integrates tablets and smartwatches into the Volkswagen infotainment system.
5) Regular Routes is ideal for daily drivers.
6) Inductive charging will be an important component of electric mobility.
7) Charge Check indicates the charge status by vehicle lights.
8) e-Station Guide shows the way to the perfect charging station.
9) Digital Key makes the smartphone a car key.
10) Trained Parking enables semi-automated parking.
It was not clear from the press kit exactly when in 2015 all of these features will be available — some may be in 2015 models now, others as the year goes on. That last one may be the furthest out, and will actually include something called Park Assist, which drives the car into the garage semi-automatically. Such huge demand for that, you know!
Anyway, with all the buzz VW will be generating from their presence at CES — and I saw their huge booth being set up in North Hall on Monday, too — perhaps it will help reverse their declining sales in the U.S. market in the past year or so.  Of course, if they'd just bring back the Passat wagon — the car I've actually loved for 10 years now (two of 'em, both Turbos), that would help a lot. People love them, and I sense really want them back. I know I would surely buy another one. Yes, the Golf is the world's best-selling car, and it's cool… but, hey, it's just a little too juvenile, ya know?
Minnesota tie-in alert! Did you know our state ranks among the leaders nationally in VW sales? In one recent year, the Walser family of dealerships, based here in the Twin Cities, ranked #2 among all VW dealerships in the U.S.
[Note: This post originally appeared on my personal blog, GraemeThickinsOnTech.]