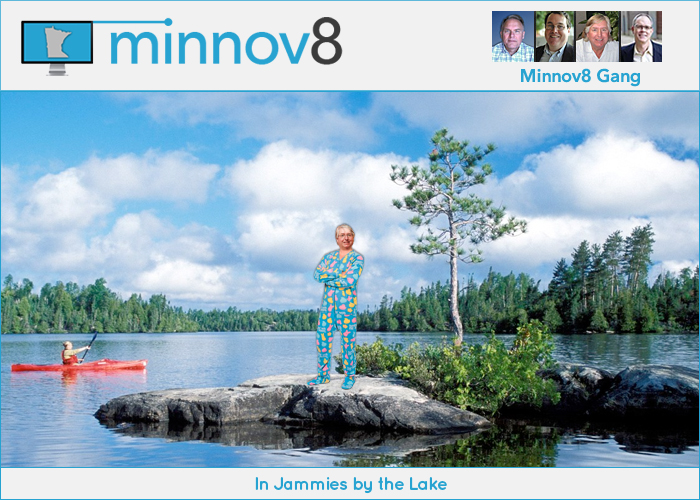 We always tease Graeme about podcasting from his cabin up north, wearing his up at the lake warm jammie pants (though in his defense, they likely fall more into the lounge wear category). Please note that none of us know if Graeme actually owns a onesie jammie set, with little ducks and bunnies on them, like you see in the photo.
Teasing aside, we are grateful Graeme makes the effort to climb into his acoustically perfect car, connect to his in-cabin Wifi, and c0-host the show!
Hosts: Steve Borsch, Tim Elliott, Graeme Thickins and Phil Wilson.
Music: Latin Blues by William Harris under a Creative Commons License.

The Podcast

Podcast: Download (Duration: 1:09:53 — 59.8MB)

Story Links
Past Week's Biggest MN Stories
Other Top Stories

Steve's Security Tip of the Week
TIP: With all the data breach news—like the 4 million+ Federal employee hacking that included Social Security numbers unencrypted—you never know when your data will be compromised. Be on the alert: File a fraud alert (also called a "security alert") with one of the credit bureaus (Equifax, Experian or Trans Union).

Cool Thing of the Week

 Upcoming Events