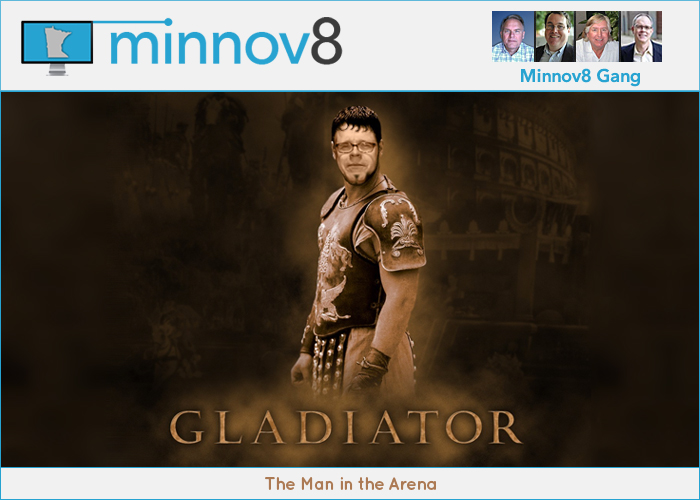 In 1910, former president Theodore "Teddy" Roosevelt (TR), gave an impassioned speech (PDF) at the Sorbonne in Paris. It included a paragraph that has been dubbed "The Man in the Arena," a phrase which has become an apt metaphor for anyone in a situation that requires courage, skill or tenacity…vs. someone sitting in the stands as a spectator watching.
The sort of spectators who observe startups, entrepreneurs, (or any innovator or disruptor) and are, as TR so aptly put it, those "cold and timid souls" who routinely naysay, give criticism and believe they could have done better.
At the beginning of the show we talk about "Girl Develop It" and women in coding, so this speech snippet by Roosevelt could be looked at as him being somewhat of a misogynist (for his repeated emphasis on "man"). It turns out Roosevelt was an outspoken advocate of women's suffrage in the early part of the last century. A position certainly not in the mainstream at the time amongst men.
Hosts: Steve Borsch, Tim Elliott and Phil Wilson (Graeme Thickins is off this week).
Music: Milestones – Brown Sugar by Rio Pugliese under a Creative Commons License.

The Podcast

Podcast: Download (Duration: 48:00 — 40.8MB)

Story Links
Past Week's Biggest MN Stories
Other Top Tech Stories
Steve's Security Tip of the Week
TIP: Credit Card "skimming" is a problem and its growing larger. Be aware every single time you swipe your card at a gas pump or ATM machine.
Cool Thing of the Week
Upcoming Events