If you publish apps (and it's hard to find a company these days that doesn't), you'd better be up on the new science — and art — of App Store Optimization. Yes, say hello to another acronym: ASO. We all know about SEO — it's such common practice, we do it like breathing. But when the whole world has gone mobile, when everyone and their mother are publishing apps, if you aren't into ASO – well, you're falling behind. It's a major new focus for app developers and publishers, and one of our most successful Minnesota startups is ready to take you to school on it.
ASO is the direct result of a phenomenon VentureBeat calls "invisible app syndrome." In a post today, it explains: "With over 1.5 million apps in each app store, it's easy for apps to disappear and never be seen… App Store Optimization (ASO) can bring your app out of hiding, placing it squarely in front of the customers who need or want it, and keep them clicking through."
St. Cloud-based NativeX is an experienced player in helping app publishers 

optimize for the app stores. You know them well. We've certainly written about the company before. It lately describes itself as "the premiere ad technology choice of top-charting mobile games and apps." It has an expert team of engineers, data scientists, account managers, and designers, and has been recognized as a leader in effective monetization and user acquisition.
NativeX has been an innovator as well in redefining native advertising for mobile games and apps. (Worth mentioning here is that this Minnesota-born startup has been profitable for 12 straight years. Yes, you read that correctly. We grow 'em good here in the cold North – where the firm began life under the name Freeze.com.)
An Upcoming ASO Webinar: "Money for nothing, clicks for free"
VentureBeat is hosting a webinar on February 18th on App Store Optimization. It's sponsored by none other than NativeX, who will be participating along with Aaron Kardell, founder of Minneapolis-based real-estate apps publisher HomeSpotter.
From the post about the event (where you can register): "Mobile app developers are fighting a fearsome battle every day. As mobile continues to be second nature for us, publishers are releasing countless new apps on a daily basis — almost 1,500 a day are added to Apple's App store alone. However, only a few will gain the undivided attention of the public."
ASO Best Practices
In addition to sponsoring the upcoming webinar, NativeX just released an ASO white paper, which is all about best practices to help publishers improve app store visibility.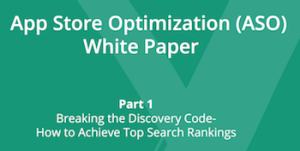 It's the first in a two-part series. Part 1 focuses on Search Ranking optimization. Part 2 will focus on improving Chart Ranking.
"With the millions of apps already in the app stores,"  said Ryan Weber, NativeX cofounder and chief product officer, "many developers have experienced the crushing reality of publishing an app that never finds an audience because the audience never finds the app."
VentureBeat says this about the new white paper: "It takes effort and insight to implement the kind of ASO that makes a measurable difference, but the experts at NativeX have broken that process down to four steps."
Ryan Weber adds: "67% of app users say the last app they downloaded was found through typing their inquiry into the app store search, making search the dominant organic app discovery method. Improving search ranking within those stores has become one of the most critical ASO requirements for publishers."
Weber said that NativeX published the white paper to answer the questions most relevant to app publishers about ASO and how to improve their app store visibility. Specifically, here are the questions it addresses:
What is ASO?
What motivates users to download an app?
How are users finding/ discovering apps?
What impact do paid installs have on organic installs?
What do you need to measure for effective search discovery?
How do you pick the right keywords?
What tools are available to help with keyword selection?
How does relevance, difficulty and popularity affect keyword prioritization?
What are On-Page and Off-Page influence factors and what improves search rank?
How do you optimize paid campaign delivery for the purpose of influencing Off-Page factors?
What can you do in your app to influence Ratings and Reviews to improve ranking and conversion rate?
What are best practices for optimizing your app store click-through & conversion rates?
What tools are available to help with AB Testing to determine best assets to use?
VentureBeat published an extensive report  a couple of months ago on App Store Optimization. In a post describing that report, it says, "App publishers who implement ASO can realistically expect a 20% lift in organic downloads, and can in some cases double or even triple their organic downloads. That's huge, and reduces overall cost per acquisition of each mobile user."
That report sells for $499. But you can get a pretty darn good education for free by reading NativeX's two-part white paper series mentioned above.
Then you can not only be on your way to increasing your own downloads, but you'll be ready to help your mother when she's ready to publish her first app, right?
——-
[Note: This post first appeared on my personal blog, Graeme Thickins On Tech.]