Zipnosis is a 2008 Minnesota Cup winner (Student category) and a pre-launch healthcare startup in Minneapolis that is zeroing in on the always-on and always-connected generation with a very interesting and potentially disruptive healthcare business model.
I sat down this week with founder Jon Pearce to discuss Zipnosis and what they were trying to accomplish. "When you're sick and need to go to a doctor or visit a clinic, you have to take time off work, pay a co-pay, sit in the waiting room, and then just get seen by a nurse," says Pearce. This occurs even for fairly routine and minor issues such as bacterial infections (e.g., strep throat) or viral ones like the flu, and Pearce has data-backed opinions about the percentages of office visits that are routine like these.
Those are the types of visits that require a considerable time investment for the patient and are low value ones for a clinician, and speeding up that process virtually and online (called a "zip") is what Zipnosis is making more efficient for both the patient and clinician (minutes for a Doctor to turn around a diagnosis vs. 15-20 minutes of time for that same thing in-office, and undoubtedly 2 hours or so of time for the patient). What if instead you could use your computer or cell phone, answer a series of very structured questions about your symptoms, get fast clinician or doctor feedback and, if needed, a prescription sent to the pharmacy of your choice?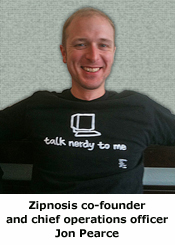 The idea for Zipnosis came about while Pearce was working on his MBA at the U of MN Carlson School and explored the concept with his friend Dr. Steve Claypool, a former colleague of his at the medical-documentation software company ProVation Medical in Minneapolis. Claypool is now Zipnosis's chief medical officer and they brought in Dr. Conrad Barski to develop the technology platform (and be their chief technology officer).
Next they were fortunate to have the visionary Rick Krieger, cofounder of the fast diagnosis company Minute Clinic (acquired by CVS Caremark) step in as their CEO (Krieger was an entrepreneur in residence at the University of Minnesota Venture Center, a place and team Pearce calls "invaluable" in the development of Zipnosis).
During our discussion over coffee last Tuesday morning, Pearce gave me a run-through of how Zipnosis works. Pulling out his iPhone, he walked me through the process by starting a "Zip" for one of the minor ailments Zipnosis excels at managing:
Logged on to their mobile app, stepped through a symptoms checklist for what he thought ailed him (it's a decision tree) and then sent it to a clinician or doctor on the other end
The clinician or Doc reviews the data sent (since the Zipnosis decision tree algorithms stop the process if the patient's symptom inputs dictate an office visit is warranted) and an SMS is returned to the user with a link and clicking on that link brings up a webpage from the clinician
The results webpage then explains the diagnosis and recommends treatment options: In some cases you will have a prescription to pick up (and can have them send it to your pharmacy of choice or, by using the built-in GPS, find a pharmacy near you at the moment); other times the physician may think your condition requires a face-to-face visit and you will be instructed to contact them for an appointment.
Each Zipnosis costs the patient $35 which seems like quite a value when one considers that even routine doctor office visits require at least one hour along with travel time and time off of work.
WHO WILL USE ZIPNOSIS?
Though Pearce was pretty clear that their target market is comprised of younger, tech-savvy people who are more apt to be part of that always-on and always-connected generation mentioned earlier — and are more prone to embracing new and more efficient paradigms that leverage internet connections and the devices we're using today as well as mobile devices that connect to the internet — I didn't have a chance to drill-down on that market and the age ranges they think are optimal ones.
It's my belief they'll be surprised over time that their user base will skew higher than expected if the data that continues to come out is any indication.
Two great data points are outlined in studies by Pew Internet. In their study, "Internet, broadband, and cell phone statistics," Pew found that 74% of American adults (ages 18 and older) use the internet with 60% of American adults using broadband connections at home. While that's impressive — and makes it understandable why nearly half of all Americans turn to internet searches for health knowledge and could be prone to embracing the vision of Zipnosis — the more important statistic is that 55% of American adults connect to the internet wirelessly, either through a WiFi or WiMax connection via their laptops or through their handheld device like a smartphone.
Where those "74% of adults using the internet" fall demographically are clearly outlined in Pew's study from one year ago entitled, "Generations Online in 2009" and shows this breakdown of age ranges:

The web continues to be populated largely by younger generations, as over half of the adult internet population is between 18 and 44 years old. But larger percentages of older generations are online now than in the past, and they are doing more activities online, according to the many different Pew surveys taken from 2006-2008.
Bottom line? Zipnosis has a phenomenal opportunity, great technology that supports Web and mobile devices, a stellar management team, funding (first round last March and now self-funded by the management team) and I suspect we'll be hearing much more from our friends at Zipnosis as they launch in February.