DoApp Inc., a Minnesota-based mobile app development firm (www.DoApps.com), has come a long way since its founding five years ago. I had a chance to sit down with the management team last week in the company's offices in Rochester, Minnesota, where most of its employees are based. (Disclosure: I have a small equity position in the company, as I helped it launch in 2008. So, go ahead, call me biased!) It was the first chance I'd had in a while to catch the management team together in one place (left to right in the photo below): Wade Beavers, CEO: Joe Sriver, Founder; and Dave Borrillo, COO. Wade and Dave call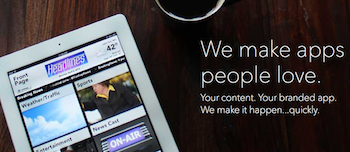 Rochester home, while Joe is based in the Twin Cities. (They met when they all worked for IBM-Rochester, before Joe moved West to join Google in early 2001.) DoApp now boasts 19 employees, with a handful located virtually, one as far away as Vancouver. A core group of employees has been with the firm since 2008. This company has had amazingly little turnover, which says a lot in today's environment. See more about DoApp's talented team here.
What do I mean by "come a long way"? Well, ever since the company launched its first apps right when Apple opened the App Store in early 2008 (I was there — it was a wild time!), it has been one amazing run for these guys. Here's how DoApp describes itself on its web site: "Great design and enterprise-level code comprise the core of DoApp. We've built over 1500 apps for all major mobile platforms. After millions upon millions of downloads, our mobile strength has been tested. We are a pioneer in mobile app development. We are a leader in mobile app experience." (Note: about 400 of those 1500 apps are iPad apps.) "We are obsessed with mobile: continually developing new ideas, user experiences, and methods of engagement. This is what we love to do." That is about the most you'll ever hear DoApp brag. There isn't even much detail on its web site. These guys don't talk a lot about themselves; they just keep executing, signing customers, and building their business. That's why I had to make my trip to Rochester, to find out more…
So, what did I learn?  Well, these guys have way too much fun together — but I seriously believe a sense of humor is mandatory for any startup. And I'm sure that has something to do with how tight-knit the team is. I also gleaned some pretty impressive stats (below). And I learned the company has been profitable for some time, and that applies to both its major businesses: publishing and real estate. The company has had no outside investment, by the way — it was self-funded initially by founder Joe Sriver, and started booking revenues immediately after launch. So, DoApp has been quite a home-grown Minnesota startup success story — even if it has been a bit more low-profile than many. So, about some of those stats…
DoApp's Publishing and Advertising Business:

The company has customers in 110 local markets across 34 states, and those include 176 TV stations, 58 radio stations, and 110 newspapers.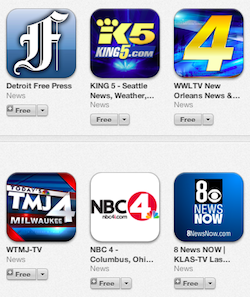 Just search "DoApp Inc." on the iTunes App Store or on Google Play to see the huge number of apps it has developed for these broadcasters and publishers.
DoApp's Real Estate Business:
The company also has been building its real estate app business for several years. Recently, it formed a partnership with CoreLogic, a leader in the real-estate market that has an estimated 70% of the Multiple Listing Service (MLS) market in the U.S. DoApp powers all of CoreLogic's "GoMLS" app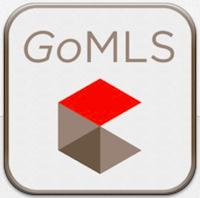 offering. The GoMLS app (see the iOS version here) can only be used by real estate agents, brokers, or other affiliated professionals that already have an active MLS subscription for this service. It gives agents a time saving, easy-to-use, data-rich mobile app for access to listing data and more, directly from Apple or Android devices. It integrates with other systems and CoreLogic products to allow professionals to access saved searches and contacts, and edit key fields on-the-go. CoreLogic is a publicly traded firm (NYSE: CLGX) headquartered in California that provides property information, analytics, and services in seven countries.
Separately, DoApp serves as the mobile provider for the MLS organizations in Chicago, San Diego, Tulsa, Georgia, Birmingham, and more. These relationships, along with the CoreLogic partnership, make DoApp the largest provider in the U.S. of mobile real estate solutions for MLS organizations.
In addition, DoApp has 17 of its own branded apps covering sports, weather, news, and tech, which together now boast more than 8 million unique users.  Here are a few:
Congratulations to the DoApp team for all they've accomplished to date! I'll make sure to follow along and keep you up to date on their fortunes.
(Note: This post also appeared on my personal blog, Graeme Thickins On Tech™.)