There's an awesome new organization in Minnesota that's inspiring middle-school and high-school girls to explore technology or entrepreneurship as a career. And thanks to my membership in CoCo, I had the good fortune recently to meet the cofounder of the Minnesota chapter of this global organization, which is called Technovation. Her name is Shawn Stavseth.  The global organization is supported by technology leaders from MIT Media Lab, Google, Twitter, Dropbox, and Andreessen Horowitz.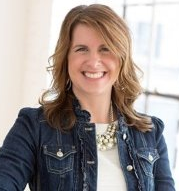 Shawn recently left a career in marketing for Thomson Reuters and is now devoting some of her (extensive!) energy to this local chapter. At Thomson Reuters, she created and executed a mobile strategy, including adoption of native apps, mobile website, SMS, in-app ads, mobile payment, as well as gaming and ebooks, so this volunteer work is a natural for her. Follow Shawn here on Twitter and follow Technovation[MN] here.
Earlier this year, she and cofounder Matt Johnson began forming the Technovation[MN] chapter to bring the "Global Technovation Challenge" to Minnesota. This initiative is the largest and longest-running global technology competition exclusively for girls, to inspire their pursuit of STEM —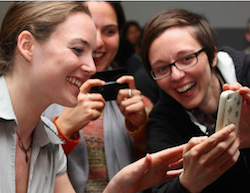 science, technology, engineering, and math. For the year 2014, Minnesota will have a total of 18 teams participating in this competition for young women.
Through an intensive three-month, 50-hour curriculum, teams of young women work together to imagine, design, and develop mobile apps, then pitch their startup businesses to investors. Some 1,374 young women from 19 countries have already completed Technovation's curriculum, thanks to dedicated local volunteers worldwide.
A Focus on Local Community Problems
The 2014 program theme challenges young women to develop an app to solve a real problem in their community. And, because Technovation's curriculum teaches both technology and entrepreneurship, the program is accessible for beginner computer science students, yet still challenging for advanced students. In 2014, the program will award $20,000 in funding to the winning teams to use for further app development. No prior programming experience is necessary for students, or for teachers. The program is free to all participants.
At the culmination of the Technovation Challenge, Technovation[MN] hosts the "Appapalooza," where it celebrates and congratulates all Minnesota Technovation Challenge teams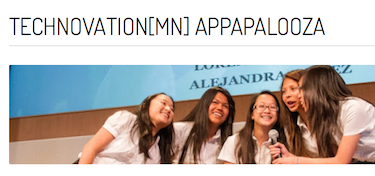 on completing the 12-week curriculum, and then submits their work to headquarters. This year's Appapalooza event will be on April 27 at TIES Education Center in Falcon Heights.
This fall, Technovation[MN] will again be hosting "App Days" to enable teen girls to build mobile apps, and to inspire them to participate in the Technovation Challenge. Since the launch of Technovation[MN], it has hosted three such App Days, during which it's trained more than 100 teen girls and mentors from all over the Twin Cities area.
More Sponsors, Mentors, and Volunteers Needed!
If you'd like to explore how you could participate as an individual or company — whether at the upcoming event or in general — there are still opportunities for sponsorship
 and/or for participating as a mentor or volunteer.
Can't participate in person? Then please donate here to this very worthwhile community cause!
For the full story on this month's event, here's the press release:
Technovation[MN] Appapalooza:
"Tapping into an Aptitude for Apps"
Event For Young Women April 27
MINNEAPOLIS, Minn., April 7, 2014 – Minnesotans are invited to celebrate young women in technology by attending the Technovation[MN] Appapalooza event on Sunday, April 27, 2014 from 3:00 to 5:00 p.m. at TIES Training Center, 1667 Snelling Ave. N. in Falcon Heights, MN.  This event features young women pitching their mobile app idea as part of the Technovation Challenge, a global technology entrepreneurship program.
Technovation[MN], which is launching the Technovation Challenge in Minnesota, inspires girls in middle and high school to dream up, design, code and pitch mobile phone apps that help their communities. The Technovation Challenge program is designed to attract and encourage the next generation of women technology entrepreneurs.
Twelve teams of girls, ages 10 to 19, from Twin Cities area middle schools and high schools have spent the last three months building their mobile app to compete in the international app building challenge. Each team builds an app that solves a community problem.  Teams can choose to build an app for a non-profit or address a teen or womens' issue.
The Challenge culminates with the April 27 Appapalooza event where participants will "pitch" their apps and unveil their work. Ten teams from the United States and other countries will then be selected to fly to Silicon Valley, CA to present their app ideas to real venture capitalists; the winning team will be awarded $10,000 to help commercialize their app.
"We're working to close the gender gap in computer science by teaching girls how to code and how to be successful entrepreneurs," explained Shawn Stavseth, Co-Founder of Technovation[MN]. "Designing mobile apps is real and tangible for these girls because their phones are something they use every day. We want girls to understand the powerful role that technology can play in solving world problems."
The April 27 Appapalooza is free and open to the public. Donations are welcome. Register to attend the event by visiting http://technovationmn.org.