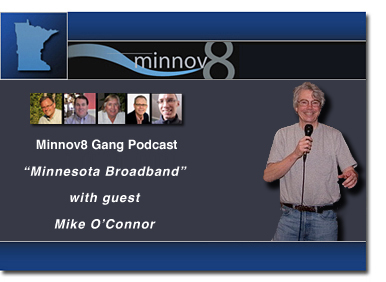 We talk with Mike O'Connor from the MN Ultra High-Speed Task Force, a self-described community organizer, entrepreneur and tech-geek (blog here & bio here) turned business-leader (and, I might add, a gentlemen farmer turning his Wisconsin 420 acres back to its original pristine state).  Mike also became moderately famous in Minnesota as one of the people who popularized the Internet back in the mid-90's and, in fact, started an ISP with his gang of cohorts in St. Paul called "Go-Fast.net" which he later sold.
Mike also has alot of experience in public policy matters having been with the St Paul Mayor's Y2k Taskforce (chair), St Paul Mayor's Education Taskforce (chair), Minnesota Legislative Coordinating Commission Working Group on Taxation of Telecommunications (member), St Paul Mayor's High Tech Council (founding member), State of Minnesota Information Policy Council (member, Steering Committee), and the Lowertown Cyber Village Association (founding member).
Mike graduated from Grinnell College with a Bachelors Degree in Economics, and received an MBA from Cornell which, as you'll hear on this show, clearly helps him have a solid perspective when it comes to funding, public policy and how broadband could act as a catalyst for innovation in our State.
We wanted to talk with Mike for those reasons and, most importantly, since he has gained a global perspective (e.g., he's on the Internet Corporation for Assigned Names & Numbers (ICANN) Business Constituency group) but because he's one of the Governor Pawlenty appointed members of the MN Ultra High Speed Broadband Task Force.
Hosts: Steve Borsch,Tim Elliott, Graeme Thickins

The Podcast
Podcast: Download (Duration: 1:04:20 — 37.3MB)

Links from this show:
+ Minnesota Ultra High-Speed Task Force
+ Mike's UrbanUsers blog (he represents urban areas of Minnesota on the task force)
+ From our story about Daren Cotter who founded CotterWeb due, in no small part, to his access to broadband when attending Mankato State University and how it acted as a catalyst that sparked his entrepreneurial endeavor
+ Blandin Foundation's Broadband Initiative and this blog on it
+ Technology Information Education Services (TIES) provides technology and information resources to school administrators, educators and students and Dennis Fazio, now Director of Technology at TIES and formerly with the now defunct MR.Net (MN Regional Network and here's a Wayback Machine MR.Net page from 1996)
+ Mentioned Internet2 (and here's a PDF map of this network).
(Note: We had some trouble with the conferencing bridge today so, unfortunately, Mike's audio is a bit choppy. I apologize for that — Steve).