An auxiliary power system designed and produced by a company with a long history in Minnesota appears to have played a role in the miraculous landing of USAir Flight 1529 on the Hudson River on January 15.
I was alerted to this news by a colleague at one of the local Honeywell facilities (in Golden Valley): Rich Hoeg, who's manager of web collaboration and knowledge sharing. (Honeywell was founded in Minnesota and based here for most of its life, but corporate offices were moved to New Jersey when it merged with Allied Signal in 1999. The company still employs thousands here in Minnesota.)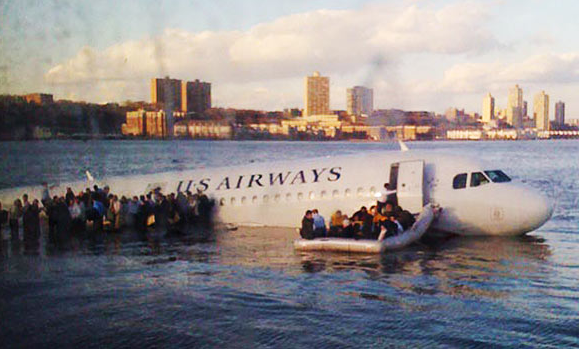 The first known photo of the downed plane, taken with an iPhone — with a dirty lens! — as
the first ferry came alongside.  It was shot minutes after the A320 touched down on the river.
(Photo by Janis Krums)

I first met Rich Hoeg, who's been with Honeywell since 1985, when he spoke at the Minnebar event in May 2008. I encouraged him then to attend a great conference on enterprise collaboration, called Defrag, which was held in Denver this past November. The conference producer asked Rich to speak there, and his session was very well received.
Rich has an excellent personal blog, where he posted recently about the life-saving Honeywell system (which I assume is part of all Airbus 320s). Here's an excerpt:
"I like to keep my blog private from my professional life, but sometimes you just have to brag! My employer, Honeywell, manufacturers APU's (auxiliary power units) for commercial jet aircraft. In the case of the dramatic controlled landing by US Airways Flight 529 (sic) on the Hudson River,  this is what the Wall Street Journal had to say …
And he linked to that story: Backup System Helped Pilot Control Jet (WSJ, 1/20/09).  It described how the Honeywell "APU" may have averted a major catastrophe (two excerpts):
"As the captain of US Airways Flight 1549 prepared to ditch his disabled jet in New York's Hudson River, he had some help from some last-resort equipment that apparently kept the plane's electrical and hydraulic systems working even as both engines nearly shut down." …
"The generators that routinely provide electricity weren't available because they are driven by the aircraft's engines — which weren't putting out sufficient power after apparently having ingested several geese. But the plane's auxiliary power unit — made by Honeywell International Inc. — was operating during the descent and gave the pilot full use of the jet's flight-control system, according to a spokesman for the National Transportation Safety Board and other people familiar with the details."
Rich went on to say in his blog post: "… if the pilot had not been able to control the A320 jet (i.e. the flight controls), it would have been impossible to fly the aircraft." I of course immediately asked Rich if any of the engineers that designed this Honeywell backup sytem are located here in Minnesota. To which he replied: "We have a bunch of cool Aerospace engineers in Minnesota, just not the APU folks."
Nonetheless, this news is obviously a great source of pride for a very longstanding, innovative Minnesota company — the legacy of which is still very much present here in the state. And that's not just with its own operations here, many of which are doing work that's classified or company confidential (so even your probing Minnov8 reporters can't write about it!) — but with other successful tech firms based here that grew out of Honeywell beginnings. (Two prime examples are Secure Computing and NVE.)
So, what kinds of stuff is Honeywell doing today in the way of advanced technology that involves its employees here in Minnesota? I did a little research: how's this for some high-end space age stuff? — a Honeywell web page on Microelectronics & Precision Sensors. And here's another page that gives a good overview of what Honeywell's R&D labs are working on, worldwide.  Minnesota is one of three U.S. research centers for Honeywell, the others being in New Jersey and Arizona.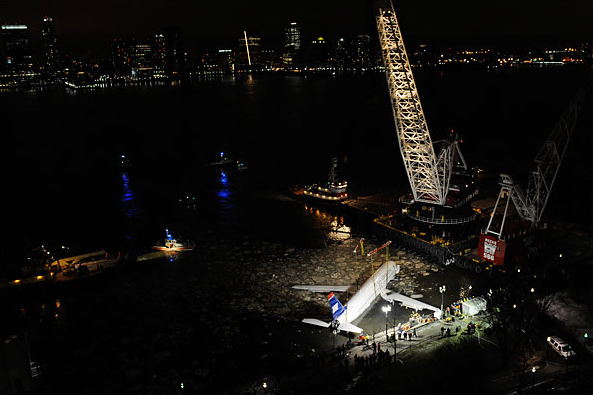 (The US Airways Airbus A320 being lifted from the frigid waters of the Hudson River onto a barge using two harnesses and a crane more than 20 stories tall. Photo by Robert Stolarik for the NY Times.)
And, in an update to the investigation surrounding Flight 1549, see this story in today's Wall Street Journal:  New Focus Put on Avoiding Bird Strikes.  (Also see this WSJ blog post today for more on the subject.)  The quest for technology solutions to make air travel safer never ends. Though the ones cited in the above article are from companies in Oregon and Florida, I suspect we'll continue to see Honeywell's research operations producing their share of innovations, whether in aerospace/aviation or in many other areas. So, the next time you run into any Honeywell employees here in our state, tell them they work for a pretty cool company….