[Note: This post first appeared earlier today on the CloudAve blog.]
What a gorgeous spring week it was in Minnesota last week: clear, sunny, even sneaking into the '70s.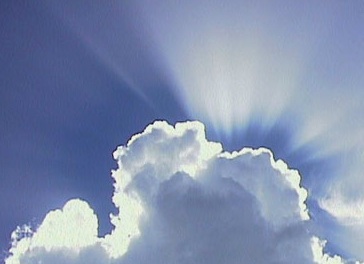 The only "clouds" in sight were the proponents and would-be adopters of the latest, new hotness in enterprise computing.  Two events, on Wednesday and Saturday, attracted a wide array of these IT professionals, some 350 all told, who were hungry to learn more about… well, "the orange that's the new pink," as Larry Ellison would say. It was beyond impressive that so many people would give up being outdoors last week after the winter we've had in these parts!  Goes to show how deep our IT roots run in this state. Geeks are everywhere here and, doggone it, we're proud of it!  We still have many old-school enterprise IT folks who remember the days of time-sharing on mainframes, and way more than our per-capita share of Fortune 500 headquarters in this state, all with huge (well, getting leaner) IT departments. But, along with all that, Minnesota has a seemingly endless supply of boot-strapped Internet and software startup developers — folks that are finding they love what cloud computing is doing for them.
So, it was an eclectic bunch that gathered at these two Minnesota cloud events, and I was there to take it all in….
The first was a panel at the MN High-Tech Association's annual spring conference on Wednesday at the Minneapolis Convention Center. The conference drew some 850 attendees overall. The cloud panel, one of several breakout sessions, was billed as "Moving Into the Cloud – Drivers, Benefits, Reality."  I had the pleasure of moderating this one, which featured the following panelists:
– George Reese, CTO and founder of enStratus, a developer of enterprise-grade tools for security and reliability in cloud infrastructures, and author a new book from O'Reilly, "Cloud Application Architectures."
– Matt Googins, a solution architect at Carlson Marketing Worldwide who has responsibility for a portfolio of IT services and programs for several of the firms large, Fortune 500 clients
– Robert Metcalf, founder and CEO of Flyspy.com, a third-generation travel search engine that's been in development for seven years. The service displays all your travel options in the next 60 days in a visual format and will be available in beta in the next month or two.
So, just who was in the crowded, standing-room-only audience of more than 200 in this breakout session? I was shocked when I asked for a show of hands and saw upwards of a third say they were with firms of 1000 or more employees. A similar number identified themselves as senior or C-level execs. About 15% were developers or other technologists.
Big Topic to Cover in 45 Minutes
I led the panel discussion around the normal topics: is cloud computing over-hyped (we opened with the Larry Ellison rant — quite timely, as it turned out), then jumped into what are the definitions, the panelists' experience with app development and deployment, and the platform-as-a-service approach versus infrastructure-as-a-service. The panelists provided an overview of the industry-leading Amazon Web Services offerings. But we moved quickly into a discussion of the advantages and business benefits of cloud computing, which was what most were there to hear — focusing of course on the economic benefit of greatly reduced cap ex and the pay-as-you-go model.  A statement by Reese that the cloud computing juggernaut is coming more from the CFO's office than the CIO's may not have been what many in the audience wanted to hear.  Metcalf added later that we don't have a Chief Water Office or Chief Electricity Officer, and that many of the duties of the CIO are bound to change in coming years. Googins, after several successful evaluations of cloud infrastructure for his large enterprise clients' apps, said he was within days of presenting to his CIO his recommendations for significant transformation to cloud infrastructure, and was confident that would be approved. He cited one successful application, for Monsanto, that he's had in the Amazon cloud for nine months at 100% uptime.
But it was Rob Metcalf who may have wowed the audience the most with his success story, calling himself "the poster boy for cloud computing," and admitting it may be responsible for nothing less than saving his fledgling startup.  Flyspy is a highly complex app that processes more data in 12 hours than Orbitz does in all it queries in a month, so Metcalf knew it would require massive infrastructure. But cloud computing allowed him to lop-off no less than $150,00 from his cap ex budget, which went a long way toward helping him get funding.  He now has just minimal monthly costs to run his service. After about seven months of experience in the Amazon cloud, Metcalf was now touting what the new infrastructure model has meant for his startup. He spoke in glowing terms about his experience with Amazon's EC2 service, and also the advantages of its Simple Queue Service (SQS) for his particular huge compute needs. He also is a big fan of management and monitoring tools for the cloud,  such as those from Reese's firm, enStratus. Googins also will be using those tools in a production environment he said he'd be rolling out in about a week.
Audience questions focused on pricing transparency, speed of deployment, the big issue of dealing with culture of the corporate IT department in moving to the cloud, and the status of legal language in contracts used in the new model. On that latter question, Flyspy's Metcalf said his firm spent months modifying the contracts his data providers normally use for firms that have physical data centers. He said whole sections had to be cut out, many pages, and lawyers don't do that easily (whereas "they'll add stuff all day long").  He said it was a huge hassle for his firm, and darn-near sunk it. But all is now well.
Serious Geeks Ignore Sunny MN Saturday, Talk Cloud Inside
You could tell those who gathered at CloudCampMSP on April 18 at the U of MN's computer science building were serious. It was the Twin Cities' first real spring Saturday, and there were tons of things we all could've been doing outside. 

Being a free event, the less-dedicated of course didn't show.  But that was a good thing, because the more than 100 who did pretty much filled the schmoozing space and the main room, anyway, and there was a ton of energy in that building.  We first heard lightning talks from local firm Visi.com, then Aserver, enStratus (also local), Microsoft (a local .Net architect) , Slicehost/Rackspace, and Rightscale — so, three of  those came to town just for this event.  Following was a lightning panel featuring three of the above, along with myself and a developer of some new cloud apps for Best Buy (Curtis Thompson), a proponent of PaaS (Google App Engine).  Audience participation was lively, prompting discussions of PaaS vs. IaaS, how businesses have to do more with less today, private vs. public clouds, bandwidth (esp in rural areas), nonprofits' use of the cloud, and more.  Breakout sessions addressed a number of hot topics (see photo). I attended one on cloud mobility (led by Uri Budnik of Rightscale, all the way from LA), and another on security/reliability/regulation/compliance, led by Jim Hanlon, chief architect at Digital River (DRIV). I was impressed by the amount of intelligence in the room, in both sessions. Highly experienced, senior architects, some from huge firms — along with some pretty damn smart young guys, too, including startup founders (like Lukas Dickie of Gimigo).  Cool mix of cultures!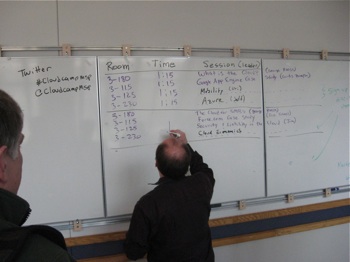 In the mobility session, we talked about how we're starting to hear of the promise of easily moving apps from one cloud to another (or data center to cloud), though Rightscale's approach, I learned, is about moving servers from one to another; what they do is keep the server config consistent.  Later, in the security/compliance session, we talked about how compliance issues don't change with the cloud; we still have the hard questions to ask. One big difference now: where is the server physically located?  And what about legal issues of, say, someone subpoenaing all the server records of a cloud provider when it has nothing to do with your company? (Witness the recent FBI example.)  We certainly don't have all the answers. As Digital River's Hanlon said, "This regulatory/compliance stuff is really hard, and that's why companies want to outsource it" — citing it as a major reason they're in business.
[For a further rundown on CloudCampMSP, go to search.twitter.com and enter "cloudcampmsp" or "ccmsp" — both hashtags were used variously during the day, along with "cloudcomputingmsp" till I realized my mistake.. 🙂  The event was one of the top trending topics on Twitter this sunny day in April, and a big success by all accounts. A ton more conversation transpired at a NE Minneapolis watering hole during the reception following…but, naturally, there weren't many tweets from there. And I know you'll thank me for not doing any of my podcast audio interviews while we were all drinking.]