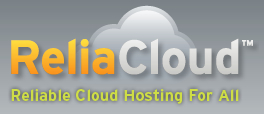 Got a nickel? Then you have a server for an hour, my friend. Visi.com, Minnesota's largest Internet services/hosting firm unveiled on Wednesday morning its all-new brand of cloud computing services, dubbed "ReliaCloud," with pricing starting at 5 cents per hour for its first offering, called "Cloud Server." The breakfast seminar, "CloudVision," was held at The Metropolitan in St. Louis Park, and was sold-out, with more than 200 IT and business executives attending. (Tweets are archived at the hashtag #cloudvision, including my own.)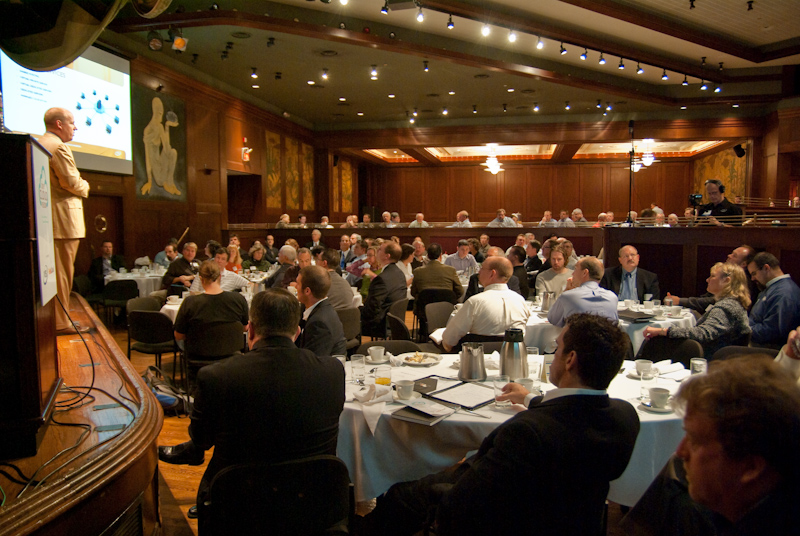 The seminar featured talks by Mike Sowada, CEO of Visi, shown here on stage. (Photo courtesy of Charles Robinson.) Visi is the state's largest Internet services and hosting firm, with data centers in both St. Paul and Eden Prairie.  A talk followed entitled "Cloud Computing as a Business Advantage" by Chris Howard, a VP at analyst/research firm Burton Group.  Jason Baker, CTO of Visi, wrapped up the event by presenting the first details of his firm's new ReliaCloud offering, which included a live, online demo by product manager Johnny Hatch that came off flawlessly. I captured a few of the key slides for you…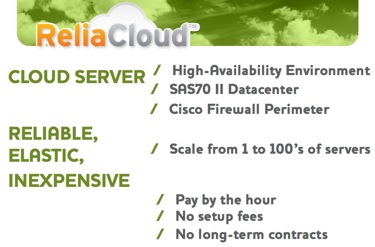 The suite of ReliaCloud services starts with the obvious one called "Cloud Server,"and Visi tells me they have already signed up more than 100 qualified beta testers for the public beta of this service, now underway. There is no cost to be a beta tester, and you can sign up here. The demo made it very clear that no special knowledge is required to quickly "spin up up a server" in the cloud. Visi's cloud service is clearly being positioned not just for IT professionals, but for business users as well. And the firm is targeting organizations of all sizes — large enterprises, midsized companies (Visi's sweet spot), and certainly startups as well.  Cloud computing is, of course, especially a favored choice of the latter, with their minimal IT budgets.
So, Why Would a Company Choose a Regional Player Like Visi as Its Cloud Computing Provider?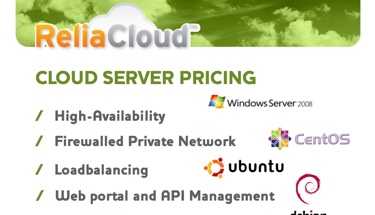 The obvious advantage for Visi that I heard attendees discussing following the presentations — as compared to the large cloud players such as Amazon EC2 and Rackspace — is the peace of mind that many firms will have in knowing where their servers and data are actually located. That is, the "comfort factor" that it's all nearby — not in some unknown location that could be on the other side of the world. Also, more responsive, local customer support — including live, 24/7 online chat that Visi will offer — will have appeal to many firms, as opposed to the big national or global players, which have support that's largely self-service or provided only by email.
CTO Jason Baker said that the second service to be offered in the ReliaCloud suite will be "Cloud Storage," and that pricing for that would be by Gigabyte, and highly competitive. Watch for that announcement soon — in November, I gathered.  I also learned, after the event, that the ReliaCloud service is not even officially public yet on the Visi.com web site.  But a new site — www.ReliaCloud.com — will be going live in November.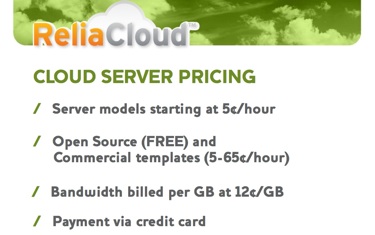 In the meantime, you can start reading more at Visi's blog, including a brief recap of the October 21st seminar, complete with PDF downloads of the slide presentations.  You can also check out other blog posts there that chronicle the ongoing construction process at Visi's new data center in Eden Prairie — including some cool time-lapse photography — a facility that CEO Mike Sowada told me he expects to be fully up and running in December. Financing for the project took well over a year, Sowada said — "a process that would have taken three days in previous years."
A final note: to get ongoing updates on Visi's new ReliaCloud services, you can start following along at special new Twitter and Facebook pages, as well as a new ReliaCloud blog.