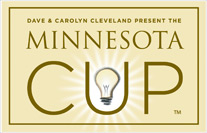 Last night's turnout at the James J. Hill Library for the Minnesota Cup Semifinalist kickoff was impressive and quite large for an event of its kind. In attendance were 125-140 entrepreneurs, investors, sponsors, MN Cup judges and those of us covering the event (Minnov8 and tech.mn) as well as the people who were the entire reason for the kickoff itself: the semifinalists.
If you don't already know about the Minnesota Cup, it is an annual, statewide competition that seeks out aspiring entrepreneurs and their breakthrough ideas and is open to all entrepreneurs, whether your breakthrough idea is high tech or no tech, whether you are just putting your ideas into a business plan or if you've already been actively building your venture for some time.
After some initial networking and refreshments, the evening festivities were kicked off by Anne Rasmussen, JJHill Library CFO/COO. She dropped some factoids on us about the Hill Library being one of the top business libraries in the nation, is fully self-supporting, and she ended her remarks by referring to how fitting it was that the entrepreneurs in attendance were sitting beneath a portrait of James Jerome Hill himself.
As you are undoubtedly aware living here in Minnesota, Hill was an incredibly successful entrepreneur who began his railroad empire in the 19th century and whose heirs established the library we were sitting in last night. (One factoid she didn't mention–and one I've always found intriguing–was the supposed inspiration Hill's life and empire building gave Ayn Rand for her character Nathaniel Taggart in her novel Atlas Shrugged).
Next up was Scott Litman, co-founder of the MN Cup (along with his business partner, Dan Mallin). Scott walked through the particulars of participating in the competition, what it took to deliver on it successfully as a competitor, a bit about the prize money, and gave the semifinalists the information they required to complete their business plans and make sure they submitted them by the deadline of July 23rd at 11:59pm (on a humorous note, Scott mentioned that historically something like 1/3rd of the plans are submitted within the final six hours!).

Scott then introduced several other folks who had remarks for the semifinalists about the reasons they were participating and why the Cup was such an important endeavor:
John Stavig, Professional Director, Gary S. Holmes Center for Entrepreneurship, Carlson School of Management discussed the imperatives for our State in being catalysts for entreprenurial activity and ensuring innovation occurs here
Mary Mathews, CEO of the Northeast Entrepreneur Fund, represented the Arrowhead Growth Alliance described how their group—northeast Minnesota CEOs who've been meeting once a quarter for 20 years—decided to participate in the Minnesota Cup instead of doing their own thing since the Cup was so well established and already enjoyed gubernatorial support and considerable momentum (she also mentioned that 7 of the semi-finalists are from their alliance)
Joan Moser, Spoken Impact: demonstrated how to present and wow investors by telling a story and emphasizing how to engage and focus ones message and value proposition as a startup
Michael Wilmott, Consul & Trade Commissioner, Technology Partnering, Consulate General of Canada talked about historical investments they've made here and the motivations they have to discover ways to participate in Minnesota's success.
The divisions are categories within which each semifinalist falls and it certainly appears that there are some fabulous and innovative startups being launched (or which have already been launched) here in MN. Don't believe me? Then look here, click on any given semifinalist's link, and check them out for yourself. The divisions are:
Clean Technology & Renewable Energy
BioSciences
High Tech
Social Entrepreneur
General
Student
The one thing that Scott Litman did (which you should take to heart if you're an entrepreneur) is his strong message that the Minnesota Cup is truly an open competition and judging is based on the merits of the startup. Scott also gave we audience members the motivation to prod the startups and entrepreneurs we know (who've not yet participated) and make sure they participate the next time around (hint-hint Minnov8 readers).
If you'd like to read numerous other perspectives on the Minnesota Cup and why this is such an important and worthwhile adventure for the future of innovation in the State of Minnesota, just head over to the Cup's In The News and read a few articles linked to from that page.