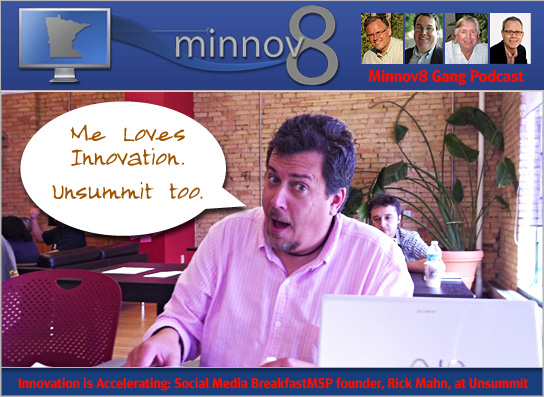 The Gang covers much of what happened this past week in innovation, specifically surrounding the Minnesota Cup, Unsummit, iPhone 4 introduction and we even discussed an infamous news item, the ICANN authorization of the new ".xxx" top level domain.
Show Hosts: Steve Borsch, Graeme Thickins and Phil Wilson (Tim Elliott was off this week).
Music by Al Phlipp and the Woo Team and their song, "Timber Stone" from Music Alley.

The Podcast
Podcast: Download (Duration: 1:03:01 — 36.8MB)

Discussed during the podcast:
+ SMBMSP at Target Center
+ Minnesota Cup Semifinal event and the semifinalists
+ UnSummit
+ 2005 Bush Administration objection to the .xxx top-level domain
+ The Collaborative
+ A fabulous resource for anyone in business in Minnesota (especially startups!), the James J. Hill Library
+ Alvenda funding ($5M from Split Rock: link to PDF)
+ W3i mobile strategy announcement coming. Check their site Monday morning.