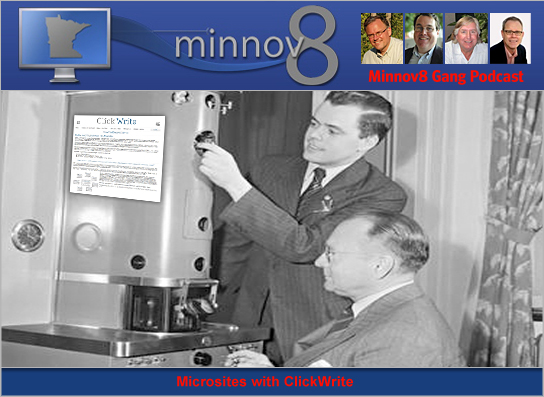 Our guest on this show's "Startup Spotlight" is Alex Huff, founder of LoudClick (which we profiled here) and now ClickWrite, the latter a, "…microsite platform creating a coordinated network of websites. The network consists of a corporate (brand) website integrated with local or targeted microsites. ClickWrite creates individual, unique microsites – with unique URLs – all coordinated from a central administration interface. This structure offers amazing flexibility and SEO benefits."
Hosts: Steve Borsch, Tim Elliott and Phil Wilson (Graeme Thickins is traveling this week).
Music: H-Beam & their song "Tank" via the podsafe Music Alley.

The Podcast
Podcast: Download (Duration: 54:29 — 31.7MB)

Discussed During the Show:
+ MN Blogger Conference
+ The Collaborative event
+ Graeme's liveblog archive of his coverage of DEMO
+ Julio Ojeda Zapata's tumblog with posts about the MN Blogger Conference and this one with a video of his great Skype use to bring in two guests from California for the event
+ UPCOMING: Startup Weekend; Rainmakers Conference, MIMA Summit (Minnov8 will be covering this even extensively).
+ Podcast download link (if the player below doesn't appear)