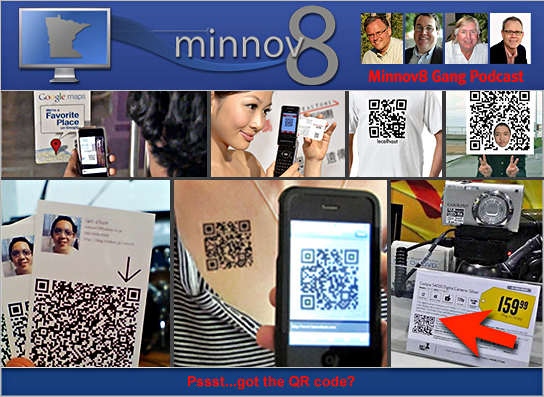 Even though two of the Gang are off this week, we're joined by the always delightful Julio Ojeda Zapata to talk tech and we cover a lot of ground while also revealing the QR code.
Hosts: Steve Borsch, Tim Elliott & Julio Ojeda Zapata (Graeme Thickins and Phil Wilson are off).
Music:  Scott McLean & his song "One Sweet Dream" via the podsafe Music Alley.

The Podcast
Podcast: Download (Duration: 56:56 — 33.2MB)

Discussed During the Show:
+ Past week:
– Julio's adventure: Without Any Sense of Irony, Almanac Hosts a Panel on New Media and TPT's Terms of Service
– Julio's upcoming iPad book: iPad Means Business
– Apple announces new: OS X Lion; MB Airs; iLife '11; Mac App Store (Yep, Apple Killed The CD Today)
– Windows 7: 240 million licenses sold; do Windows tablets have a chance vs. iPad?
– Windows Phone 7: Julio's first impressions & Edward Tufte's learned opinion
– HP's Slate. Engadget review
– Google TV blocked by networks, Hulu cuts price in half
– Space Vidcast
– MediaFly
– This Old Nerd
+ Gang Mentality: The Big Three: predictive analytics; location awareness; presence awareness (Steve's post).
– Best Buy Deploys QR Codes to Enhance Shopping Experience
– CueCat
– itizen, a St. Paul startup
+ UPCOMING EVENTS:
– Magnet 360 Exec Briefing – October 26th
– Social Media Breakfast, Social Media Meets Travel & Tourism moderated by Gang member Phil Wilson – October 29th (SMBMSP's new website)
– Tekne Awards – November 3rd
– Wordcamp MSP – November 13th
– Startup Weekend II – November 19-21