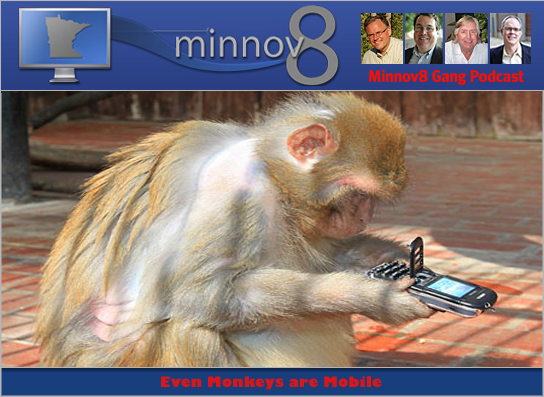 The "always on, always connected" culture is accelerating due to mobile devices and it seems like everyone has a mobile phone, laptop or tablet (which we know is not actually the case…yet). What does being always on and always connected mean for work, education, and socializing when we can find out anything or connect with anyone in an instant? When even monkeys are mobile, how mobile are you with your work, education and socializing?
Hosts: Steve Borsch, Tim Elliott, Graeme Thickins and Phil Wilson.
Music: David Bennett Cohen playing "Cookin' with Cohen" via the podsafe Music Alley.
The Podcast
Podcast: Download (Duration: 57:22 — 33.3MB)
Discussed during the show:
Upcoming Events
Sunday, February 27th: DEMO (Graeme will be liveblogging it starting Monday morning, and is also using Fanchatter on his blog to aggregate all the DEMO conversation). Also, DEMO has partnered with FORA.tv to bring DEMO LIVE to audiences around the world.  The full program will be available starting Monday, February 28th at 9:00am Pacific Time, and later on-demand.
Saturday, March 19th: MOBILE MARCH New part of this years mobile event…Mobile 3D
Wednesday, March 23rd: Cloudcamp MSP
Thursday, March 24th: MSP WordPress User Group meeting
Saturday, March 26th: Overnight Website Challenge
Monday, April 11th: MinneWebCon