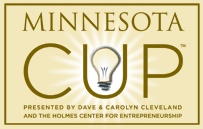 I stopped into a reception held last evening at the U of M's Carlson School for this year's group of semifinalists in the annual Minnesota Cup.  It's the seventh year of this business plan competition, which has gained broad support from our business community.  I had a chance to interview cofounder Scott Litman, who talked about this year's applicants and the process the semifinalists would now be going through as the competition continues.
After an opening reception in the atrium, a series of speakers and presentations followed in an adjoining auditorium. The main focus of these talks was to inform and instruct the 47 semifinalist teams (across six categories, called "divisions") about how they can best prepare for the ongoing judging.  That includes the opportunity for each these startups to work with their choice of "Mentors" chosen by the Minnesota Cup and the Carlson School (a major sponsor).  A list of 47 such mentors, with their bios, was handed out, and John Stavig of the Carlson School is coordinating the choice of mentors by the semifinalists.  Most all the mentors are graduates of the U of M, the majority with degrees from the Carlson School, and they represent a wealth of business-building experience.
What's next for the Minnesota Cup semifinalists?  Here's what we learned last evening about the upcoming schedule:
• Each semifinalist submits a 20-page business plan by midnight July 22nd.
• The division finalists are announced on August 19th
• The division finalists present and winners are selected on Augusts 30th
• The division winners present to the Grand Prize Review Board the afternoon of September 8th
• The Minnesota Cup awards event is held the evening of September 8th at the U's McNamara Alumni Center
Congratulations and good luck to all the semifinalists! And thanks to the many sponsors and partners of the Minnesota Cup, as well as to Scott and his cofounder, Dan Mallin, for helping another great crop of our state's startups go through their excellent program.  I really believe all the entrants (1000+ this year) are winners, because they get an opportunity to learn so much from the process. Go, Minnesota startups!