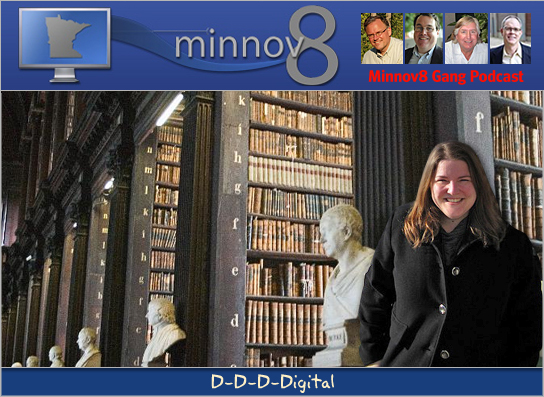 Like many businesses, institutions and organizations, libraries are wrestling with an increasingly digital world. As devices become less expensive and more of a library's customers demand access to digital content they can borrow, issues of how to satisfy that demand is at the forefront of library thought. As a thought leader in this space, Meg Knodl (LinkedIn; Twitter; Flickr) brings to bear a traditional base of library science knowledge, along with a social/new media acumen, and is delivering leadership around library's pressing topics. Meg never does a "humma, humma" or stutters when talking about d-d-d-digital, but many in her field do since libraries and digital lending is in such a state of flux.
Host: Steve Borsch (Graeme Thickins, Tim Elliott and Phil Wilson were picking up empty soda bottles in a park to pay their library fines this week)
Music: "Blue Sky" by Big George Jackson Blues Band via the podsafe Music Alley.

The Podcast
Podcast: Download (Duration: 48:16 — 28.0MB)

Discussed during the show: