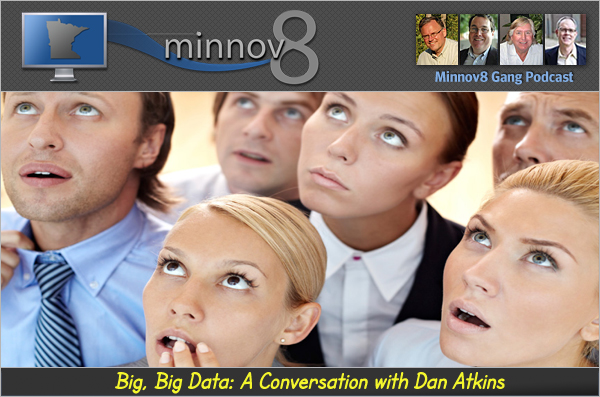 Remember "Web 2.0?" When Tim O'Reilly coined the term in 1999 his intent was to describe the shift from desktop to web applications, data sharing and much more. Claimed to be overhyped, Web 2.0 still stuck as a term and was big enough to describe what needed understanding. Today the emphasis is on yet another all-encompassing term, "big data." That term describes the deluge of data being spawned worldwide and the challenges faced (and opportunities to take advantage of) with trying to capture, curate, store, search, share, analyze, visualize, predict, glean (possibly hidden) meaning, and somehow make sense of it all.
Our guest on this podcast, data scientist Dan Atkins, co-founded and jointly runs Minneanalytics the #BigDataMN: Minnesota's Field Guide to Analytics event and others as well as his own firm, Capsaicin, LLC.
As always, the Gang also catches up on the hottest stories this past week affecting us all in technology and Minnesota.
Hosts: Steve Borsch, Tim Elliott, Graeme Thickins and Phil Wilson.
Music: Second Time Around by Maria Daines. Available thru Music Alley.

The Podcast
Podcast: Download (Duration: 1:07:34 — 40.0MB)

Discussed during the show…
Best Buy Deathwatch
Apple Earnings Reaction
CyberSecurity
Big Data
Other
Upcoming Events…