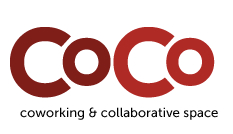 Big news today from our friends at CoCoMSP.  The very successful, high-profile coworking venue announced today it will partner with Google to "boost entrepreneurship in Minnesota."  Specifically, CoCo has agreed to work with the "Google for Entrepreneurs" program to host a variety of events, conferences, and social mixers over the next two years at its Minneapolis location (the former Grain Exchange trading floor), all with a focus on technology and startups.
The news is breaking on the same day Google and CoCo are cohosting a day-long event on entrepreneurship and innovation in Minneapolis, including speakers, workshops, and a closing happy hour reception. (At 11:00 am, there's even a Google+ Hangout on Air with Minneapolis Mayor R.T. Rybak.)

According to CoCo's news announcement today, its ongoing two-year partnership will feature several types of events to be held at the CoCo Grain Exchange location:
Launch and pitch events, such as Startup Weekend Twin Cities
Affinity and user groups, including Google Developers Group Twin Cities, Android Users Group of Minnesota, and House of Genius
One-day and multi-day conferences
Social and networking events for startup founders and mentors, including a mentor event for Minneapolis' STEP-UP program.
Classes and educational sessions, including online-only sessions that will be available to entrepreneurs across the state.
All events in the series will (of course) make use of Google technology, including Google+ Hangouts, so that entrepreneurs from throughout Minnesota can participate in events remotely.
The first event of the partnership will follow the all-day event today: the local Google Developer Group's monthly meetup, which will be this evening at CoCo. The news release states "a full 2013 event schedule will be finalized and made public in the coming weeks."
Today's "Google for Entrepreneurs Day" is being kicked off by U.S. Senator Amy Klobuchar and Minneapolis Mayor R.T. Rybak and features talks and sessions led by visiting Google employees.
"This partnership with Google will allow us to continue to expand our mission of creating a robust community of individuals pursuing the work of their dreams," said CoCo founding partner Kyle Coolbroth in a prepared statement.
Google describes its "Google for Entrepreneurs initiative" as actively supporting entrepreneurs in the U.S. and across the globe. "We believe entrepreneurship drives innovation, economic growth, and vibrant communities. We see that happening in Minnesota and particularly at CoCo," said John Lyman, Entrepreneurship Manager at Google, in the release.  Google For Entrepreneurs says it empowers "the next generation of innovators to be successful." (No word on you older entrepreneurs, haha.)
For those who haven't yet been to CoCo, you should drop by and get a tour — it's fantastic!  (Disclosure: I'm a member, so I'm very biased.)  CoCo describes itself as "a place where entrepreneurs, freelance professionals, small businesses, and corporate workgroups can gather to share ideas, team up on projects, and get work done." For its members, CoCo is an alternative to working from home or meeting at the local coffee shop. CoCo also has a location in Lowertown St. Paul.
I'm looking forward to today's event and hope to be doing several video interviews (especially of Google execs), as well as tweeting and more blogging during the day.