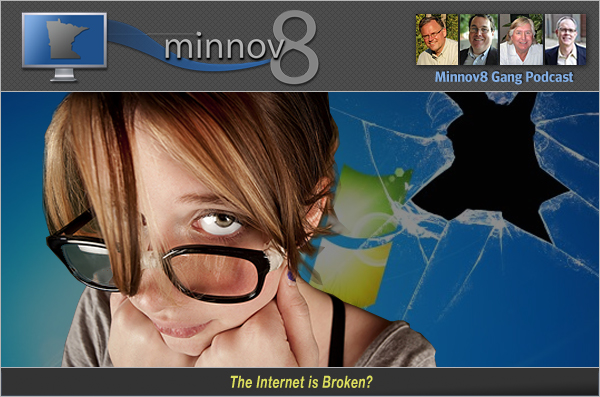 Steve returns to The Gang after 3 weeks and Phil is spring breaking but three of us dissect the top stories of the week including Best Buy's founder returning, did hackers really break the internet last week and T-Mobile's aggressive announcements.
Hosts: Steve Borsch, Tim Elliott and Graeme Thickins (Phil Wilson is off this week).
Music: Dangerous Things from George Fletcher's Bourbon Renewal/The Tequila Mockingbirds. From the podsafe Music Alley.

The Podcast
Podcast: Download (Duration: 1:05:05 — 38.2MB)

Discussed during the show…
Best Buy
Did the internet break last week?
Steve's Security Tip of The Week
T-Mobile
Facebook phone?
Others
Upcoming Events…
WordPress MSP, Thursday, March 28 at The Nerdery
MinneBar 8, Saturday April 6, 9-5pm, Best Buy Headquarters
2013 Nonprofit Technology Conference, April 11, 2013 – Saturday, April 13, 2013, Hilton Minneapolis
Minne-Fair / Maker and DIY Exposition, April 13, 2013 – Sunday, April 14, 2013
MinneWebCon, April 15, 2013 at 8:00 AM – April 16, 2013 at 4:30 PM, U of M Continuing Education & Conference Center
WordCamp MSP, April 27, 2013 – Sunday, April 28, 2013
Twin Cities Code Camp 14, April 27, 2013
Midwest Mobile Summit, downtown Fargo, ND, April 28-29
MHTA's Spring Conference, April 30 at the Minneapolis Convention Center
EyeO Festival, June 5-8, Walker Art Center