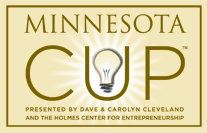 The ninth annual Minnesota Cup competition – the largest statewide new venture competition in the country – will close its application window on May 17 at 11:59 p.m. Entrepreneurs, inventors and small businesses have two weeks to enter their breakthrough business ideas on Minnesota Cup's website for a chance to compete for $200,000 in prize money.
The competition is free to enter and encourages entries from a wide range of business ideas in six divisions – Energy & Clean Tech, General, High Tech, Life Science & Health IT, Social Entrepreneur and Student. Entrepreneurs advancing in the competition will have the opportunity to advance business ideas, gain exposure, learn about resources available to entrepreneurs, be paired with mentors, meet members of the Cup's review board – and win cash prizes if their idea is judged to be among the best entries.
Submissions must contain a description of the product or service, explanation of the market size or opportunity, a sales and marketing overview, brief operating plan and high level financial projections and assumptions.
For more information and to enter, please visit www.breakthroughideas.org.