What if you could post an ad in three minutes and geo-target it to mobile users in a given radius around you — or across an entire network of 45 to 50 million of them — then start seeing results minutes after that? Well, you can — I know, I did it, with a new self-serve ad service called Adagogo, soft-launched in recent days by mobile app platform company DoApp Inc. (www.doapps.com), based right here in Minnesota (Rochester and Minneapolis).
DoApp founder Joe Sriver began working at Google in early 2001

and knows a thing or two about online advertising. "After joining Google, I found out that I'd been about the 20th advertiser to sign up for Adwords. Also, I learned that Adwords was the reason my hire date was pushed a few months, as they were so heads-down developing it."  As Google's first UI designer, he soon became steeped in AdWords himself. "It's a great product, and I'm proud to have been part of its history," he said. However, it's become complex, really complex. It's gotten so new users either need to spend days trying to understand all the options it now offers, or hire a professional to manage their ad campaigns." He doesn't think that's right.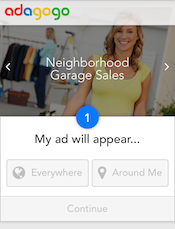 "What's been missing in all this," says Sriver, "is an easy method to just get your web site, business, blog, or app in front a lot of people quickly." (Hello, startups!)
"I think we've developed the simplest way to quickly place your ad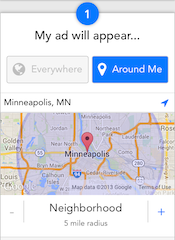 within thousands of local and national apps, on all the major mobile app platforms," said Sriver, "Our network of users today is substantial, between 45 and 50 million people, and it will continue to grow rapidly."
Because you can target locally or advertise across the entire network, DoApp says Adagogo is "great for everything from getting traffic to local garage sales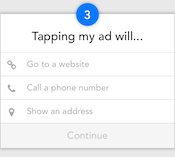 to building national brand awareness." How's that for a bold addressable market?
Sriver recounted how he experimented with a lot of new ideas since he launched DoApp in early 2008. The company's main app platform business (both Mobile Local News and Real Estate) continues to grow rapidly. (See my previous coverage of the company here, here, here, and here.) But, of all the new side-project ideas he's played with over the years, Joe says Adagogo is the one he realized had the most potential to get traction.
How to Post an Ad with Adagogo:
> Choose geographically where you want your ad displayed
> Enter your ad copy and add a picture
> Select the amount of ad impressions you want to display
> Add a web site URL, phone number, and/or location
> Enter your credit card info
> DONE!
I Did My Own Self-Serve Ad Test
I set up an ad on Adagogo the other day just to experiment with it myself. And I must say, it was quite easy. Nice, intuitive UI — really simple and clean.
My ad is the shown here with the headline, "Learn About Big Data." The goal was to drive traffic to a Flipboard magazine — which I had launched a while back on a lark — just to see how many people I could get to subscribe with a mobile ad. Joe told me that 1000 ad impressions, the option I chose (price: $25) would go quickly on the DoApp network — in about 2-3 minutes. He was right. I watched as my subscriber count went up 20%+ almost before my eyes. Once my ad impressions were used up, my click-through rate was 1.2%. Not bad, as the ad was just promoting a web site — to get people to subscribe to a free mag — not some giveaway, coupon offer, or contest.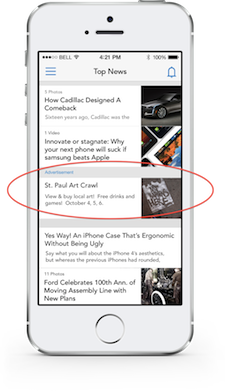 So, across what geography do users see the ads? "Many of our apps are local or regional news apps," says Sriver, "but we do have a number of national and international news apps as well. You can either choose to advertise locally within a 5, 10, or 50-mile radius around a location specified by you. Or you can have your ad displayed 'Everywhere,' which means wherever our apps are used around the world."  One of DoApp's widely distributed news apps, with a worldwide footprint, is called Headlines.
"Across iOS, Android, Windows Mobile, and mobile web, we currently have more than 1500 apps," says Sriver.
"That number will be going up significantly, as all our real estate apps will soon have access to the Adagogo network. So our total number of available apps where Adagogo ads appear will grow a ton – stay tuned!"
Seriously, I can see Adagogo used for garage sales, fundraisers, local mom & pop stores, online businesses — even big brick-and-mortar retailers and, heck, ecommerce giants, for that matter.  A Best Buy, for example, could advertise individual store deals using local-radius targeting, but could also do general brand advertising across the entire 50-million user base – say, to hype a Super Bowl commercial, or a contest or sweepstakes. No special expertise required — really anyone can use the simple Adagogo interface.
"From our start, DoApp's mission has been to help in the growth and success of communities and local businesses through new technology," says Sriver. "Adagogo builds on that mission."
A Special Offer This Month
In announcing the Adagogo soft-launch, Joe offered up a special promotion for Minnov8 readers.  With any ad package you purchase, the company will double your number of impressions. For example, buy the 1000 ad impressions package, get an addition 1000 for free (2000 total). Buy 5000, get a total of 10,000. This "buy one get one deal" is available only until October 31, 2013, and is for ads that are specified to run "everywhere," as opposed to a specific location. Just place your ad before midnight Central time on October 31 and you'll automatically get double ad impressions.
—————-
Postscript: See DoApp at MobCon
Wade Beavers, CEO of DoApp, will be speaking at a mobile technology conference coming up in Minneapolis, Nov 7-8: MobCon. (Online registration still open.)  His session and description: "It's all about your latitude and longitude. How location is changing mobile."
"Location and mobile are a perfect match. Learn more about how device latitude and longitude are changing the mobile game for advertising, social, commerce, personal data, and content distribution. A recent study showed that 43% of users were willing to provide their location to companies compared to less than 11% willing to share their browsing history. Has location information become the new cookie? You will learn: Location Data Trends, Effective Location App Offerings, Location Data Use, Consumer Behaviors, and Location Best Practices."
Minnov8 will be reporting from the MobCon event, so look for us there!
—————–
Disclosure: DoApp is one of the companies in my client equity portfolio. I helped launch the firm in 2008, serving as its VP Marketing.