Mark your calendar for a great community event on the afternoon of Sunday, May 3, at the Minneapolis Convention Center. "Appapalooza" is an annual happening that highlights the work of teams of teen girls — 40 teams this year! — organized by Technovation[MN]. These middle and high-school students are tomorrow's entrepreneurs!
The teams develop concepts for mobile apps, learn how to code the apps, and then pitch their apps to members of the community. The local teams have been working on their apps since February and are competing to be selected as one of ten teams who are flown to Silicon Valley to pitch to VCs there, and have a chance to win $10,000 to commercialize their app.
Technovation[MN] is a community organization made up of an awesome group of dedicated volunteers,
headed by executive director Shawn Stavseth (pictured). Shawn is senior director of product development at Edina-based Bluespire Marketing. (Also on the Technovation[MN] board is our Minnov8 colleague Phil Wilson, general manager of BuzzFeed's Minneapolis office.)
This great organization came about because of Code Savvy, a nonprofit that inspires kids and teens to learn to code.
These young women have put thousands of hours of work into their apps, looking to solve real community and world problems. Come hear their pitches! The event is free and open to all. Just register here.  Donations are of course welcome! That you can do on the Technovation[MN] site, or at the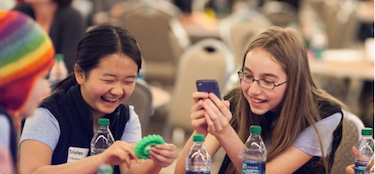 event.
NOTE TO LOCAL COMPANIES: Still needed are donations of prizes for drawings (iPads, anyone?), and also giveaways for the girls — how about some of that great conference swag you give away at your own events? Hit the contact link on the site and tell Shawn what you have! It's a great community relations opportunity, and to show your support for these hard-working girls. A contribution to the future of Minnesota, indeed. You could end up hiring some of these smart kids when they get out of school!
—————
Here's the complete text of the event news release:
Technovation[MN] Appapalooza: "Tapping Into an Aptitude for Apps" Event for Young Women May 3 at Minneapolis Convention Center
MINNEAPOLIS, Minn., April 9, 2015 – Minnesotans are invited to celebrate young women in technology by attending the Technovation[MN] Appapalooza event on May 3, 2015 from 2:00 to 5:00 p.m. at the Minneapolis Convention Center, 1301 Second Ave S.  The Appapalooza event features young women participating in the Technovation Challenge, a global technology entrepreneurship program.
Technovation[MN], which launched the Technovation Challenge in Minnesota in 2013, inspires girls in middle and high school to dream up, design, code and pitch mobile phone apps that help their communities. The Technovation Challenge program is designed to attract and encourage the next generation of women technology entrepreneurs. Technovation[MN] is an initiative of Code Savvy, a non-profit catalyst with programs that inspire a diverse new code-savvy generation.
This year Technovation[MN] exceeded its own expectations with more mentors, schools, teams and students than last year. The number of mentors and coaches grew from 15 in 2014 to 120 mentors and coaches in 2015; from 11 teams with 40 students in 2014 to 40 teams with more than 150 students in 2015; and from five schools in 2014 to 25 schools participating and supporting the Technovation Challenge. The girls have spent nearly 10,000 hours working on new apps to improve our world.
Since February 2015, the teams of girls have imagined, designed and built their mobile apps to compete in the international app-building challenge. Teams can choose to build an app for a non-profit or address a teen or women's issue.
The Challenge culminates with the May 3 Appapalooza event where participants will "pitch" their apps and unveil their work. Ten teams from the United States and other countries will then be selected to fly to Silicon Valley, CA to present their app ideas to real venture capitalists; the winning team will be awarded $10,000 to help commercialize their app.
"We're working to close the gender gap in computer science by teaching girls across Minnesota how to code and how be successful entrepreneurs," explained Shawn Stavseth, Executive Director of Technovation[MN]. "Designing mobile apps is real and tangible for these girls because their cell phones are something they use every day. We want girls to understand the powerful role that technology can play in solving world problems."
The May 3 Appapalooza is free and open to the public. Donations are welcome. Register to attend the event by visiting https://www.eventbrite.com/e/appapalooza-celebrating-young-women-transforming-the-world-one-mobile-app-at-a-time-tickets-16408537377.