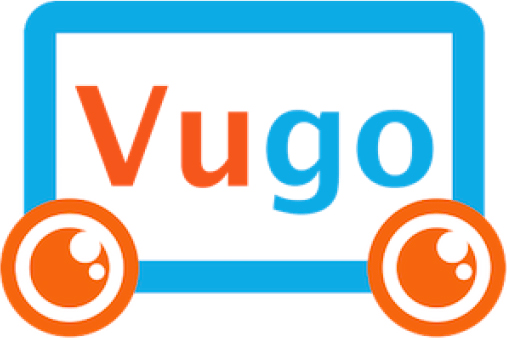 A few weeks ago we interviewed one of the co-founders of Vugo, CEO Rob Flessner, on our podcast (see Minnov8 Gang 363 – You Go with Vugo). We came away with a new and deeper appreciation for this intriguing startup delivering advertisement technology for ridesharing (e.g., Uber, Lyft) and you can get an instant idea of what they do by watching the short video at the bottom of this post.
As such, we were delighted to see that Vugo made it on the list of High Tech startups for the Minnesota Cup (see Minnesota Cup Names 2016 Semifinalists). Then co-founder James Bellefeuille, the guy who initially reached out to us at Minnov8 and led to having Rob on the podcast, pinged us again since they were about to release the press release below about making the cut for MN Cup.

No Guts, No Glory
The Vugonauts return to The Minnesota Cup with a bold vision,
continuing a track record of success with string of events and recognition.
Minneapolis, Minnesota – June 8th, 2016 – Vugo's persistence continues with a string of recognition. Yesterday, the Minneapolis-based startup was selected as a top ten Semi-Finalist in the High Tech Division of the Minnesota Cup for a second year in a row. After last year's disappointment of not advancing past the Semi-Finalist round, the Vugonauts and their Minnesota work ethic are determined to win this year's top prize.
"Bringing new products to market is always challenging, and entrepreneurship is a lot about persistence and hard work. I think our team has done a great job over the past year doing that, and it shows with the traction we've made." indicated Vugo's CEO, Robert Flessner. "Last year during this time we had just released our minimum viable product during our beta launch and used the MN Cup as an opportunity to help us refine who we were. This year, we like our chances to win it."
Vugo is a mobility media network placing media content and advertisements in for-hire transportation services like rideshare vehicles and taxicabs. Vugo's TripIntent® technology allows advertisers and content providers to target specific trips based on available information. Vugo works with small businesses and major advertisers including a handful of Fortune 500 companies to help them reach the right audiences. During the MN Cup last year, Vugo was able to raise a seed round to assist the initial launch.
Despite being a homegrown startup with founders from the University of Saint Thomas and Metropolitan State University, Vugo's largest market is Los Angeles where the company has hundreds of rideshare drivers from Uber and Lyft using the service. Co-Founder and LA Market Manager James Bellefeuille spoke recently at Startups in The Sky on May 19th. The event discussed innovations in transportation with panelists from HyperLoop One, EverCar, SKURT, Vugo, and Fixing Angeleno's Stuck in Traffic (FAST).
James described Vugo's focus on the passenger entertainment experience. Vugo believes that people are no longer going to be preoccupied with driving due to ridesharing and autonomous cars. Passengers are already engaging automobiles through the entertainment system, instead of the steering wheel with services like Lyft, Juno and Uber as riding is becoming the new driving.
"Although self-driving cars are improving efficiency and creating a safer transportation option for the masses, Vugo believes what autonomous shared cars will really help with is free passengers up to do other things like engage with media content." said James Bellefeuille. "The average American driver spends an hour in the car daily, and Vugo is going to help make it worthwhile by turning the car into a mobile entertainment room, the ideal passenger entertainment experience."
Vugo's goal is to be the largest in-car media network in the country by the end of 2018. If you're curious in learning more about Vugo's bold new vision for mobility media & entertainment, James Bellefeuille will be speaking at CoCo's NextNext Media and Adtech Summit at the Garage at COCO's Uptown Co-working and event center on June 30th, with 20 other leaders debating the future of media, journalism, entertainment and advertising.
Vugo was also recently recognized as a recipient of the Eureka! Innovations Awards by the Minneapolis – St Paul Business Journal for its work revolutionizing media and advertising. The award was announced on May 6th, with the Awards ceremony scheduled for June 16th in Downtown Minneapolis at the Aria Event Center.
"Vugo would fit in perfectly in Silicon Valley, but we want to help be a part of a new and thriving startup ecosystem home to the Twin Cities. Minneapolis is a great place to start a business because of the great business network, Universities, and big companies that develop talented people with an uncompromising Midwestern work-ethic. We have big things happening at Vugo that we are looking forward to sharing as the year progresses. We intend to count winning the Minnesota Cup as one of them." said CEO, Robert Flessner.
Contact:
James Bellefeuille
Co-Founder
James@GoVugo.com
For more on Vugo: