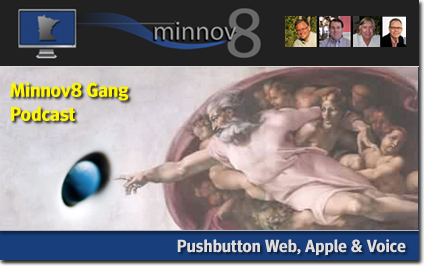 This Week's Show Hosts: Steve Borsch, Phil Wilson and Julio Ojeda Zapata (Tim Elliott and Graeme Thickins are off today). Music by Chuck Willis from Music Alley, purveyor of podsafe tunes.
Discussed during the show notes:
+ The Pushbutton Web, a concept article by Anil Dash about a "publish once, distribute everywhere" model:
+ Upcoming Microsoft retail stores and that they're hiring for them. Also, the Gizmodo 'leak' of a presentation/plan done for Microsoft on the store concept
+ Google Voice, Apple & AT&T controversy with the Federal Communications Commission asking for clarification on Apple disallowing Google Voice in the iPhone App Store. Apple's, Google's and AT&T's respective responses.
+ MIMA Summit; and the Social Media Breakfast (SMBMSP) next week at the State Fair.

Podcast: Download (36.6MB)