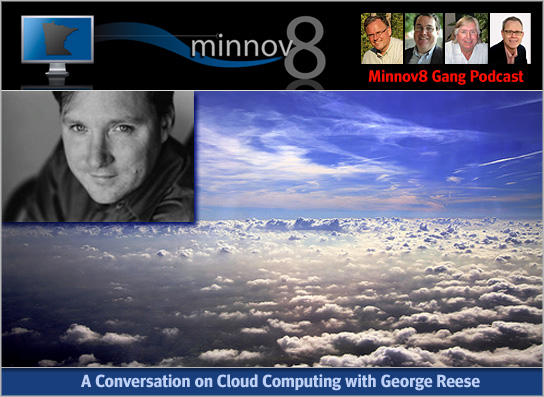 Talk about cloud computing is on the lips of people from startups to enterprise to the government, and Minnesota has a world-class thought leader right here in our midst. The Minnov8 Gang chatted with George Reese about his perspectives, books, upcoming events, and what he thinks about software-as-a-service, platform-as-a-service and how API's fit in to this whole shebang.
Hosts: This Week's Show Hosts: Steve Borsch, Tim Elliott, Graeme Thickins and Phil Wilson.
Music by Midnight Music Quartet and the tune is, "Sweet Lorraine".
About George Reese (@GeorgeReese):  George Reese is the founder of two Minneapolis-based companies, enStratus Networks LLC (maker of high-end cloud infrastructure management tools) and Valtira LLC (maker of the Valtira Online Marketing Platform). Over the past 15 years, George has authored a number of technology books, including MySQL Pocket Reference, Database Programming with JDBC and Java, Java Database Best Practices, and Cloud Application Architectures.
Throughout the Internet era, George has spent his career building enterprise tools for developers and delivering solutions to the marketing domain. He was an influential force in the evolution of online gaming through the creation of a number of Open Source MUD libraries and he created the first JDBC driver in 1996—the Open Source mSQL-JDBC. Most recently, George has been involved in the development of systems to support the deployment of transactional web applications in the cloud.
George holds a BA in Philosophy from Bates College in Lewiston, Maine and an MBA from the Kellogg School of Management in Evanston, Illinois. He currently lives in Minnesota with his wife Monique and his daughters Kyra and Lindsey.
Discussed during the show notes:

Podcast: Download (41.4MB)
Subscribe: Apple Podcasts | Android | RSS