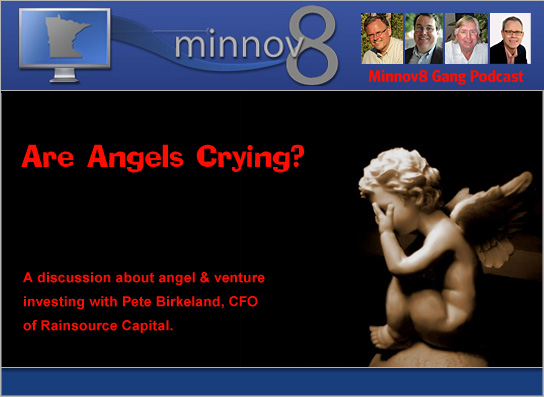 After yesterday's post, "Is Perception the Reality with MN Venture Funding?" we received a lot of email and some comments about the state of angel and venture investing in Minnesota. There is a lot of buzz amongst startups (and wannabees) who feel like this State is risk averse and a place where angels and VCs focus on the 'easy' spaces: medtech and healthcare.
Is that true? We talk with Pete Birkeland, CFO at RAIN Source Capital, the largest network of Angel Investment Funds in US. Pete is part of a team that manages 23 funds in 6 six states with $40 million under management and is a guy who has worked in this area for 10 years on both the entrepreneurial and investor side.
Hosts: Steve Borsch, Tim Elliott & Graeme Thickins (Phil Wilson is off this week).
Music by The Varatones and their song, "Surf Blaster" from Music Alley.
Discussed During the Show:

Podcast: Download (Duration: 59:59 — 32.8MB)