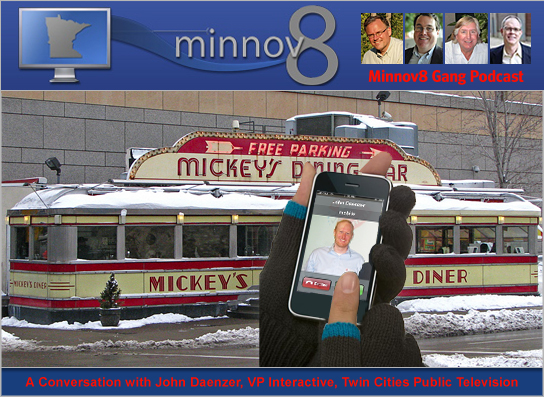 With the fundamentals around traditional media changing dramatically—and many subscribing to the theory that public media will be the organizations that will lead investigative journalism going forward—Twin Cities Public Television (TPT) must've been delighted to snag someone with the skills of John Daenzer, formerly head of interactive at WCCO-TV. As the new Vice President, Interactive Media for TPT, hear what John is up to now and his thoughts on the changing nature of media and much, much more.
Hosts: Steve Borsch, Tim Elliott, Graeme Thickins andPhil Wilson.
Music: Bob Kirkpatrick is the artist and the song is, "Too Much Time."
Music made possible by the podsafe Music Alley.
Discussed during the show: