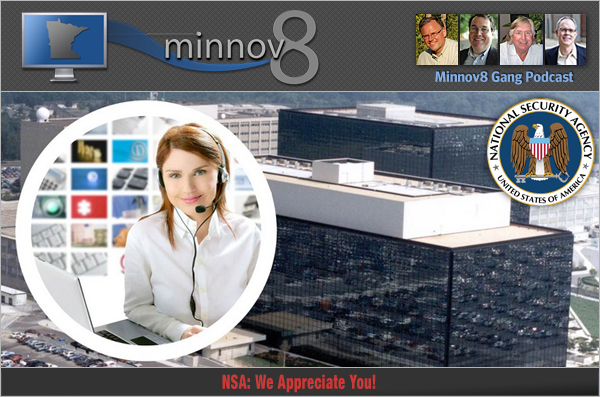 The National Security Agency (NSA) scandal continues and this satirical National Security Agency Customer Appreciation Page about sums up how people are feeling about it. The Gang talks about tech but we focus in on the internet and NSA surveillance and the potential negative impact on cloud computing which could be catastrophic for startups and any organization (or individual) using the cloud if people begin to move away from cloud computing solutions.
Hosts: Steve Borsch, Tim Elliott, Graeme Thickins and Phil Wilson.
Music: Crowe Jam  Artist: Charlie Crowe  Brought to us by the podsafe Music Alley.
Discussed During the Show:
National Security Agency (NSA) scandal
Best Buy
Other Stories
 Upcoming Events

Podcast: Download (Duration: 51:53 — 56.6MB)