A pretty cool meetup happened over the weekend at CoCo Northeast. On Saturday afternoon, the cofounders of Kidizen, Mary Fallon and Dori Graf (who office there), got
together with another experienced tech startup founder,
Wade Gerten, to show some young girls what starting a company is all about. Wade and his wife, Lisa, brought along a group of five 11-year-olds, including their own daughter, all classmates at Poplar Bridge Elementary School in Bloomington.
I was delighted to be the one who introduced Wade to Mary and Dori, after learning last week from Wade that he was looking for a female-founded startup who would speak to the girls. Though I was traveling and couldn't be there on Saturday, Wade was kind enough to provide some photos and comments on how the meetup went.
(Wade, as you may recall, was CEO/cofounder of 8th Bridge, formerly Alvenda, which was the Minnesota Cup grand prize winner in 2009. It was acquired in 2014. He's now VP of Digital & Customer Experience at Infor.)
After I made the introduction and asked if the Kidizen cofounders would be willing to host the girls, Mary immediately agreed and said, "We'll do our best to show them how rewarding entrepreneurship can be! It's truly great to see that Minneapolis girls are being exposed to the tech scene."
Following the meeting, she said: "The girls were awesome! There were some great questions and ideas from the group. We were thoroughly impressed. We're also truly impressed that Wade and Lisa, as parents, are encouraging these girls to learn how to code. They are way ahead of the game!"
Mary continued: "When I was their age, I was part of a group called the 'Future Problem Solvers of America' and, thinking back, it made a big difference in my education and path in life because it taught me how to think bigger… Part of my ongoing dream would be to give back to our startup community via its youth and/or schools by helping shape young entrepreneurial thinking. So, our meetup on Saturday certainly scratched an itch for me. Wade and Lisa, if you ever start that brainstorming group you mentioned, I'd love to help!"
In a followup email, Wade said: "I really appreciated Mary and Dori offering to host my girl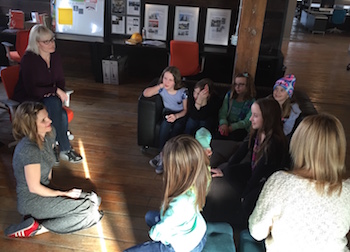 coder gang of five 11-year-olds. Earlier in the day, we'd taken part in the Rebecca CoderDojo, a two-hour coding class just for girls. This was just a day I organized, not an official school thing. I was attempting to plant some seeds with the girls that not only is coding fun, but so could be starting their own company."
He went on: "Based on the chatter in the car ride home, I think the girls were surprised by what 'business' means. My daughter commented, 'I thought you said we were visiting a business. That wasn't a business!' She had some kind of image in her mind that business meant boring or corporate. They didn't expect a slack line competition, a hammock chair, and the red tennis shoes! Thank you, Mary and Dori, for meeting our girls yesterday. You were gracious and inspiring. I suspect only a couple of hip momma storytellers like you could've made a business story so understandable and interesting to 11 year old girls!"
So, take a look: these may be the faces of some future Minnesota tech founders! Kudos to Wade, Mary, and Dori for making it happen.