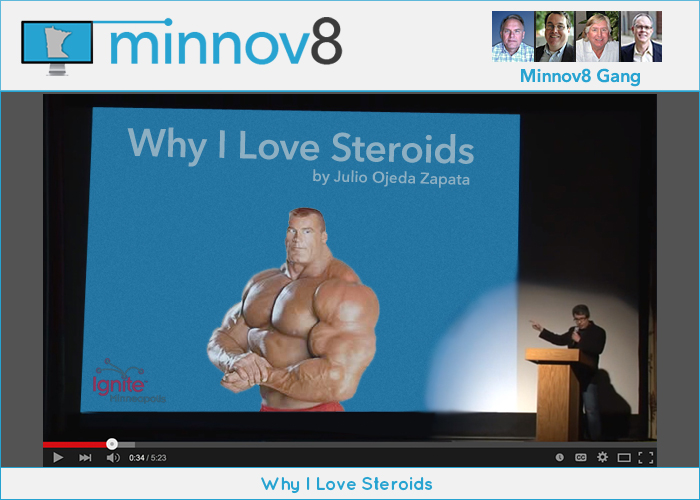 Though we've never actually seen our guest-host, Julio Ojeda-Zapata, take anabolic steroids—nor have we experienced, or even heard about, any 'roid rage incidents he has been in—we do know he's incredibly strong and ripped which will help him continue to lift all the tech gadgets he receives when they arrive.
Most importantly, Julio is quite passionate about Ignite Minneapolis, has delivered a fun and delightful presentation at the 2012 event, and we kick of this week's show discussing the Spring 2015 event he attended. Maybe he'll present on 'roids at Ignite Minneapolis in October?
Hosts: Steve Borsch, Tim Elliott, Graeme Thickins and Julio Ojeda-Zapata (Phil Wilson is off).
Music: Blue Bird Bluegrass by Phil Botic under a Creative Commons License.
The Podcast
Podcast: Download (Duration: 1:06:34 — 39.1MB)

Story Links
Past Week's Biggest MN Stories
Ignite Minneapolis recap (Julio)
Comcast | Time Warner Cable Deal
Other Top Stories

Steve's Security Tip of the Week

Cool Thing of the Week

Upcoming Events